Brendan Fraser y su magica cabellera
Recuerdan Brendan Fraser (The Mummy)? Pues Brendan puede vencer a una momia pero no a la calvicie. Aparentemente, Fraser se está quedando calvo, hace un tiempo atrás fue fotografiado y  sorprendentemente su melena castaña ya no estaba!  Yo pensaba que era parte de un film o algo así. Ahora parece que Brendan está usando el mismo método de John Travolta, una peluca, o tal vez se hizo un transplante de cabello, lo cierto es que Brendan fue fotografiado en Shangai saliendo de los estudios y su cabella estaba de vuelta. Brendan Fraser actualmente está filmando "The Mummy: Tomb of the Dragon Emperor" representando al héroe Rick O'Connell, Rachell Weisz no firmó para esta tercera película, será reemplazada por Maria Bello.
OMG! Brendan Fraser is bald!! Brendan famous for battling mythic Egyptian mummies on the big screen as Rick O'Connell but in real life he has been fighting a different kind of curse, baldness. Some months ago he was photographed and his gorgeous hair was gone! But now, her brown hair is back, maybe thanks to a hair transplant or a wig, but whatever, he looked hot again!. Brendan was spotted leaving Shanghai Studios.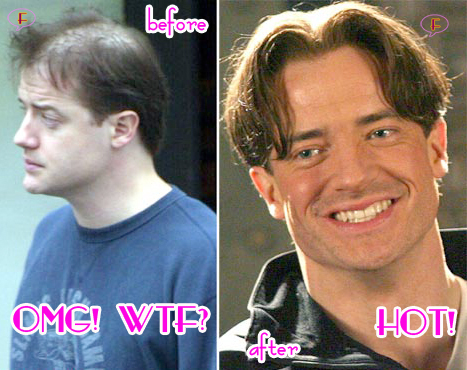 Brendan Fraser hace un tiempo, y ahora con su cabellera de vuelta