Fergie es La Mujer del 2007 en Blender Magazine
Fergie (a.k.a Stacy Fergunson) es la Mujer del Año – Woman of the Year, según Blender Magazine (Edición Enero- Febrero 2008). En una entrevista muy emotiva con Blender, Stacy Ann Fergunson habló sobre su vida artistica, Josh Duhamel y su valor para enfrentar (situaciones y) a la gente que ya conoce todo sobre su pasado. Incluso cuando el 2007 fue un excelente año para Fergie también se vio en situaciones humillantes, como la vez que accidentalmente se orinó en el escenario y la foto salió publicada hasta en la luna. Sobre ese episodio, Fergie comentó que fue muy vergonzoso pero que era tarde y no le dio tiempo ir al baño, pero que ni modo, esas cosas pasan. Sobre su noviazgo con Josh Duhamel, Fergie dijo que prácticamente se sentía casada con Josh, que está locamente enamorada de él y que Josh sabe como tratarla y la respeta mucho. Fergie es una chica fuerte en el escenario, se transforma, dice su compañero de BEP, Will.i.am. – aunque en el fondo ella es muy sensible. La entrevista de Blender con Fergie es bastante divertida porque ella se deja ver tal cual como es, una chica normal. Stacy Fergie Fergunson does Blender Magazine (January -February 2008 issue) and according to the mag She's The Woman of The Year. Fergie opens up on her career, her boyfriend Josh Duhamel and her embarrassing moments in 2007. On Josh, Ferg says we're practically married anyway. And on her embarrassing moments, she says she has gone through humilliation. She knows everyone knows her past, everybody know I wet my pants on stage and had a crystal-meth addiction. So, Fergie takes it light, You have to laugh, she said.
Yo podré no ser la persona más talentosa en el mundo. Podré no tener la mejor voz. Podré no ser la mejor bailarina. Pero trabajo muy duro y soporto las humillaciones. Es por ello que ganar un premio significa tanto para mi, mucho más de lo que puede significar para otras personas. "I might not be the most talented person in the world, she explains. I might not have the best voice. I might not be the prettiest or the best dancer. But I've worked very hard, and I've gone through humiliation. That's why winning an award means so much more to me than it does to other people."
Hay una o dos cosas que el público sabe sobre cada persona famosa. Conmigo, todo el mundo sabe que mojé mis pantalones en el escenario y que fui adicta a las metanfetaminas de cristal (crystal-meth). Apesta. Tienes que tomarlo con humor. "It's like there's one or two things the public knows about every famous person," Fergie says. "With me, everyone knows I wet my pants onstage and had a crystal-meth addiction. That sucks. You have to laugh."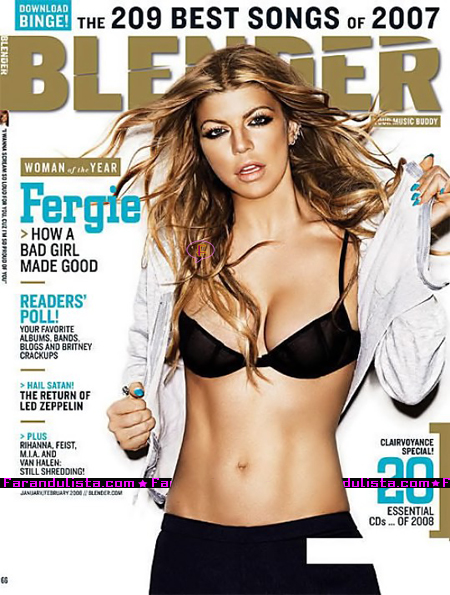 [tags]Fergie, Stacy+Fergunson,Revista+Blender[/tags]
[bgs]Fergie, Stacy Fergunson, Black Eyed Peas[/bgs]