---
Ok, ya se saben los nominados a los Nickelodeon Kids' Choice Awards 2012. Lady Gaga, Katy Perry, Johnny Depp, Sofia Vergara y Kristen Stewart son algunos de los nominados. Este año es el 25 aniversario de estos premios y será animado por Will Smith, la transmisión es el 31 de Marzo desde el USC's Galen Center en Los Angeles. Denle un vistazo a los nominados. Las votaciones comienzan la próxima semana. GO!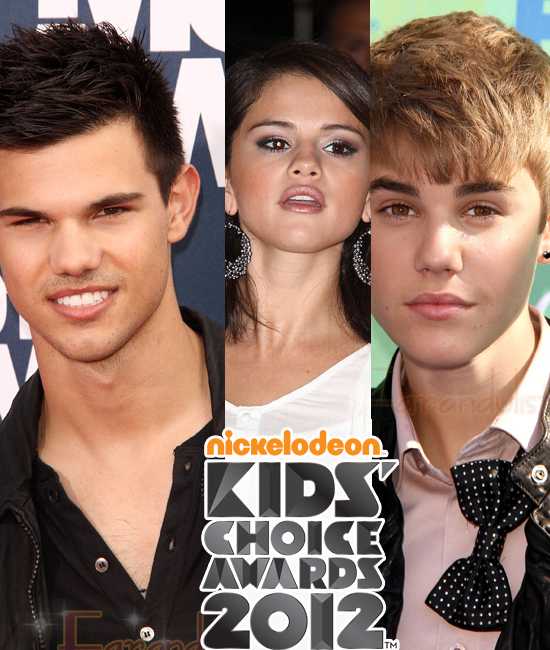 Nominados a los Nickelodeon Kids' Choice Awards 2012
Favorite TV Show:
Good Luck Charlie
iCarly
Victorious
Wizards of Waverly Place
Favorite Reality Show:
American Idol
America's Funniest Home Videos
America's Got Talent
Wipeout
Favorite TV Actor:
Tim Allen
Ty Burrell
Alex Heartman
Jake Short
Favorite TV Actress:
Miranda Cosgrove
Selena Gomez
Victoria Justice
Bridgit Mendler
Funniest TV Sidekick:
Nathan Kress
Jennette McCurdy
Jennifer Stone
Jerry Trainor
Favorite Cartoon:
Kung Fu Panda
Phineas & Ferb
Scooby Doo! Mystery Incorporated
SpongeBob SquarePants
Favorite Male Athlete:
Derek Jeter
Michael Phelps
Tim Tebow
Shaun White
Favorite Female Athlete:
Kelly Clark
Danica Patrick
Serena Williams
Venus Williams
Favorite Movie:
Alvin and the Chipmunks: Chipwrecked
Harry Potter and the Deathly Hallows, Part 2
The Muppets
The Smurfs
Favorite Movie Actor:
Jim Carrey (Mr. Popper's Penguins)
Johnny Depp (Pirates of the Caribbean: On Stranger Tides)
Daniel Radcliffe (Harry Potter and the Deathly Hallows, Part 2)
Adam Sandler (Jack & Jill)
Favorite Movie Actress:
Amy Adams (The Muppets)
Kristen Stewart (The Twilight Saga: Breaking Dawn, Part 1)
Sofia Vergara (The Smurfs)
Emma Watson (Harry Potter and the Deathly Hallows, Part 2)
Favorite Animated Movie:
Cars 2
Kung Fu Panda 2
Puss in Boots
Rio
Favorite Voice from an Animated Movie:
Antonio Banderas (Puss in Boots)
Jack Black (Kung Fu Panda 2)
Johnny Depp (Rango)
Katy Perry (The Smurfs)
Favorite Music Group:
Big Time Rush
Black Eyed Peas
Lady Antebellum
LMFAO
Favorite Male Singer:
Justin Bieber
Toby Keith
Bruno Mars
Usher
Favorite Female Singer:
Lady Gaga
Selena Gomez
Katy Perry
Taylor Swift
Favorite Song:
"Born this Way" (by Lady Gaga)
"Firework" (by Katy Perry)
"Party Rock Anthem" (by LMFAO)
"Sparks Fly" (by Taylor Swift)
Favorite Book:
"Diary of a Wimpy Kid" series
"Harry Potter" series
"Hunger Games" series
"Twilight" series
Favorite Videogame
Just Dance 3
Lego Star Wars: The Complete Saga
Mario Kart 7
Super Mario Galaxy
Favorite Buttkicker:
Jessica Alba
Tom Cruise
Kelly Kelly
Taylor Lautner
Comparte la noticia con tus amigos!
---
---
Published on: Friday, February 17th, 2012 at 16:28 -- By farandulista