Tyra Banks: Kiss my fat ass
Tyra Banks (America's Next Top Model) ha respondido a los tabloides por su "supuesto" aumento de peso. Ellos alegan que la Productora ganó unas 40 libras en 2 meses. Tyra en su talk show se mostró muy enfadada, incluso con lágrimas en sus ojos, ante las acusaciones hirientes de que ella tiene un problema de peso. Afirmando que eso es un invento muy creativo. Tyra Banks (America's Next Top Model) has strike back to the tabloides for the hurtful reports she'd gained 40 pounds. They say that the Producer gained approximately 40 pounds in 2 months. Tyra in her talk show proved to be very angry, even with tears in her eyes, before the cutting accusations of which she has a weight issues.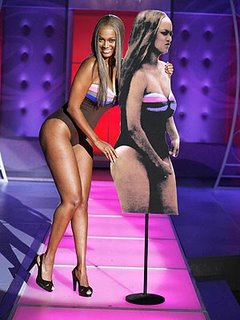 La ex super modelo se presentó en su show con el mismo traje de baño de las famosas fotos. Evidentemente ella luce mucho más delgada que en las poco favorecedoras fotos, han pasado ya varios meses de eso, estas le fueron tomadas en las vacaciones de Tyra, durante el invierno, en Australia. Tranquilamente ella pudo ponerse a dieta. The former super model appeared in her show with the one-piece bathing of the famous photos. Evidently she looks much thinner than the photos during an Australian winter vacation. It was several months ago and maybe, she was on diet before her show.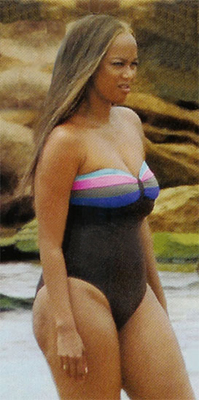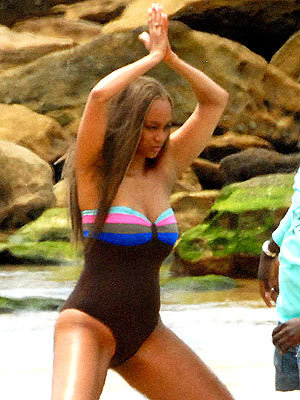 Estas fotos provocaron que los tabloides y revistas bombardearan sus portadas con burlas y mofas hacia Tyra y su supuesto problema de peso. The unflattering shot sparked publications around the globe to poke fun at a supposed weight problem.
Tyra le dijo a los espectadores:
No gané 40 libras (20 kg) en dos meses (como dijeron los tabloides) porque eso no es sano. I did not gain 40 pounds in two months (as reported) because that's not healthy.
Tengo algo que decirles: Kiss my fat ass (no tengo que traducir eso, o si?) I have one thing to say to you: Kiss my fat ass
Este es mi llamado de acción a todos los medios de comunicación para que se unan conmigo a promover la imagen de cuerpos sanos y ser responsables en reconocer que sus palabras negativas y fotos tiene un impacto perdurable en las jovencitas. This is my call to action for all media to join me in promoting healthy body images and be responsible in recognizing that their negative words and photographs have a lasting impact on young women