Los pelos recién cortados de Britney los están vendiendo por un millón de dólares. Por favor! Quien va a comprar esa asquerosidad? En fin la web buybritneyshair.com recibe una oferta mínima de 1 millón de dólares y dice: Britney freshly-shorn hair is being sold on a website specifically set up to auction her locks – with bidding starting at $1 million. Please! Who is going to buy this foulness? Anyway the site is buybritneyshair.com. The site says: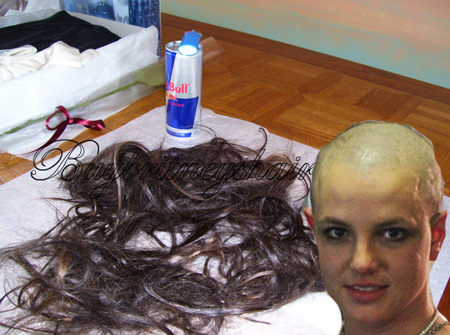 Esta es la oportunidad de tu vida. Puedes ser el orgulloso dueño de las extensiones de cabello de Britney Spears, el Omega Clipper (afeitadora) que ella usó para cortarse todo su cabello e incluso la lata de Red Bull que se estaba tomando. También puedes obtener el encendedor azul Bic y este dominio y website para usarlo con propósitos publicitarios. Esta es la Súper Experiencia Britney Spears. Esta es una parte de la Historia que jamás volverá.
This is it, the opportunity of a lifetime. You can be the proud owner of Britney Spears' hair, extensions, the Omega clipper used to cut it all off and even the can of Red Bull she was drinking at the time. You also get her blue Bic Lighter and this valuable domain and website to use for publicity purposes. This is the Ultimate Britney Spears Experience! It is a piece of history that can not be duplicated!
Ok, me hago pipí de la risa, Oportunidad de tu vida? Parte de la HISTORIA que no volverá? Quien va a comprar esos cabellos y ese Red Bull? Es que esos cabellos están tan feos que ni para peluca de bruja sirven. Por favor! Un millón de dólares! qué se cree esta, que está vendiendo la cabellera de Rapunzel? Me da gracia que colocan las fotos con la Cabeza de ET de Giuliana de Pandi para que vean sí es es la Peluquería donde Britney enloqueció. Ok, I piss me out! opportunity of a lifetime? It is a piece of history that can not be duplicated!? Who is going to buy the hair and the Red Bull? WHO? It`s disgusting!! These hairs are so ugly that not for witch's wig they serve. It is not Rapunzel's hair! It's funny because Tognozzi shows a pic where you can see "ET big Head" Giuliana de Pandi from E! with de E! team making interviews…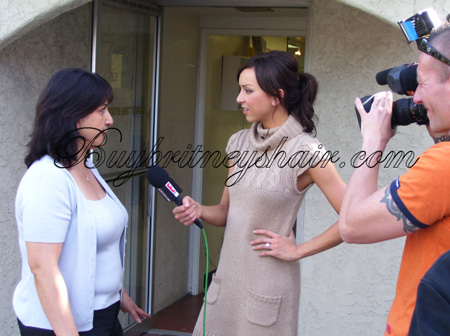 La de tan brillante idea es  Esther Tognozzi, la dueña de la peluquería, Esther's Hair Studio, donde Britney asesinó su cabello. Tognozzi originalmente había colocado los cabellos de la Spears en Ebay pero la cuenta fue cerrada sin explicaciones. The website, BuyBritneysHair.com, claims to have been set up by Esther Tognozzi, the owner of Los Angeles' Esther's Hair Studio, where Spears cut off her hair on Friday. Tognozzi originally listed Spears' hair on auction site eBay before the listing was "cancelled for an as yet unknown reason".
Solo quiero saber quien será el idiota que pagará por esas extensiones…