Victoria Beckham ha firmado con una prestigiosa cadena de Tv para tener su propia serie, será producida por Simon Fuller's 19Tv y NBC. En su página web se pueden ver varios videos de ella… que demuestran que La Posh es simplemente adorable, nada que ver con esa imagen fría que muestra en las fotos. Ellas puede ser divertida, tierna y muy linda. Más razones para adorarla. Victoria Beckham has signed a prestigious television deal which will be made by Simon Fuller's 19TV and broadcast by NBC. In Posh's website you can see some funny videos… Victoria is just ADORABLE!! She has a nice personality but I don't know why she wants to come off like such a cold bitch in pictures. She`s cute and kind. I love her!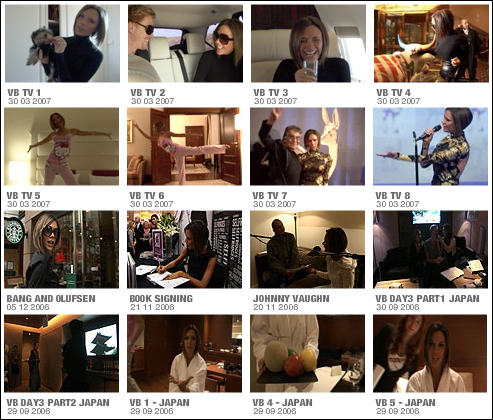 Entre los videos de su web se pueden ver momentos muy graciosos como: You can see in video very funny moments like:
Victoria riendose histéricamente (nunca se ve a la Posh sonriendo!). 

Victoria laughing hysterically

Victoria bailando como en el Lago de Los Cisnes, en Piyama de Hello Kitty.

Victoria dancing Swan Lake in Hello Kitty Pajamas

Victoria cantando karaoke con su familia.

Victoria singing karaoke with family
Y muchos otros momentos. Si quieren ver más de ella pueden visitar su web
Wooow, no puedo esperar para ver su show, saldrá al aire en verano, se ve que será divertido, ella es muy simpática, nada que ver con ese tipa odiosa de las fotos… Go Posh!