Jessica Alba Photoshoped! (Fantastic 4 Poster)
Jessica Alba sale retocadísima en el Poster de su próximo film "Fantastica 4, Rise of the silver Surfer", tanto que no parece ella!! Jessica Alba looks PHOTOSHOPED! in Fantastic 4. Rise of the Silver Surfer Poster… she doesn't even look like her!!!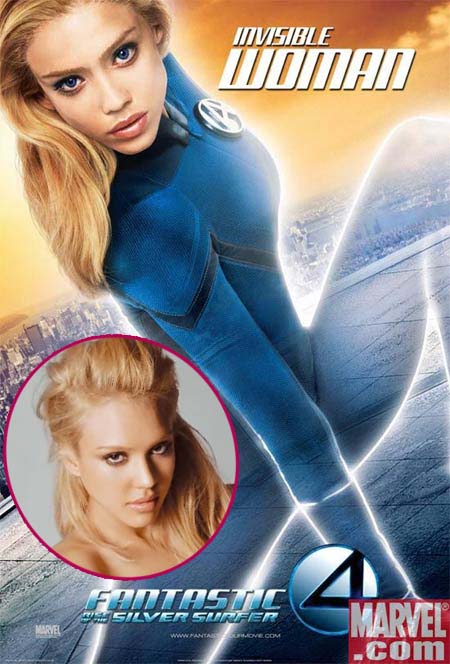 "Cuando Marvel sacó el poster promocional de Fantastic 4: Rise of the Silver Surfer todos los blogs notaron que Jessica Alba había sido retocada" así dice la nota en la página de Usmagazine. Por supuesto!! Le colocaron ojos azules y le cambiaron el rostro, ni siquiera tiene sus facciones, parece otra mujer… y fea de paso. Sus labios están demasiado gruesos, la han disfrazado de blanca, rubia y ojos azules. Hasta la piel se la han  aclarado!! Quedó como si Denise Richards fuera la protagonista!  "When Marvel comics released promotional posters for the film Fantastic Four: Rise of the Silver Surfer, blogs immediately noted that Jessica Alba had been given the Photoshop treatment." say usmagazine. Hello! She's so PHOTOSHOPED!!! That definitely doesn't look like Jessica Alba. In poster she got blue eyes and blonde hair and her face looks like Denise Richards. 
Una fuente del set de Fantastic Four le dijo a Usmagazine:
 El personaje de Sue Storm es rubia ojos azules, como es ella en la primera película de Fan 4 , tal como fue concebida y conceptualizada en el libro de la serie original. "The character of Sue Storm is blond-haired, blue-eyed, just as she was in the first Fan 4 film, just as she was conceptualized and realized in the comic book series."
Entonces yo digo, por qué no buscaron a una actriz rubia y ojos azules? Por qué colocar a una chica, supuestamente "Latina" de ojos marrones y cabellera castaña…? Para luego retocarla de esta manera… no entiendo a los que se encargan de los casting! I don't understand why she was casted on that role, she doesn't look good with blond hair and those contacts look terrible. Why don't they cast a blond-haired blue-eyed actress for that role? Why Jessica?
Representantes del film no han hecho comentarios. Reps for the film had no comment.