Star Magazine edita foto de Jennifer Aniston
La Revista Star ha editado una foto de Jennifer Aniston para colocarla en su portada, en la cual afirman que Jen ha hecho un trato de $5 millones para contar todo sobre su Divorcio con Brad Pitt.- Esto ya no era noticia vieja? Estoy cansada de ver siempre lo mismo, Jen habla de Brad , Brad quiere volver con Jennifer, Brad… Jennifer… Por favor! Brad dejó a Jenn por Angelina… Y Jennifer continúo con su vida, ya basta!- En fin, "ver es creer" y en la última edición de Star, sale una foto de Jen con lo que parece un borrador de un libro, claro cuando lees el titular te imaginas todo lo demás. Lo que no sospechaban los editores de la Revista era que la foto original iba a ser encontrada. Ellos responden a esto: "Cada revista escoge la foto que mejor describe la historia" Sí, claro! Pero no se edita para mentirle al público! En la foto de portada Jenn parece llevar un manuscrito, y en la foto original se ve que es un catálogo de arte y ella incluso lleva unos lentes de sol en la misma mano. Star magazine has edited the cover… again! Seeing is believing, as Star magazine knows. That's why it illustrated its cover story about "Jen's $5 Million Tell-All!" with a shot of Jennifer Aniston carrying what is plainly the manuscript she's allegedly shopping around to publishers about her days with Brad Pitt. But Jen's not really writing a book. In which case, maybe Star's cover actually shows something else—say, Aniston attending an auction, holding an art catalog from Los Angeles Modern Auctions. Star simply airbrushed out the cover of the catalog, along with a pair of sunglasses she was holding, for good measure. Asked about the manipulation, an AMI spokesperson said, "Every magazine in this category chooses cover photos that best describe the story." Yeah, sure!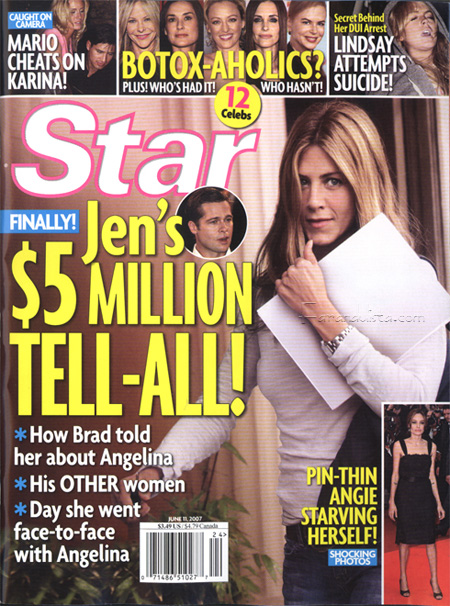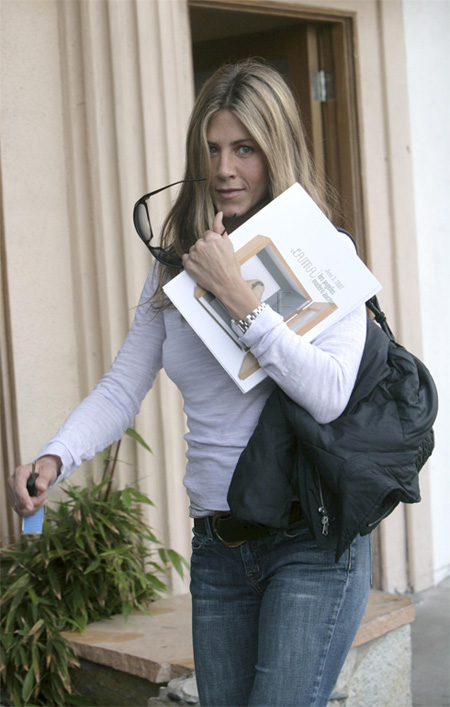 Esta es la foto original, Jennifer lleva un catálogo de arte y sus lentes.