Fotos perturbadoras de Lindsay Lohan
News Of The World ha publicado unas fotos realmente perturbadoras de Lindsay Lohan con un cuchillo. Su estado es deplorable, la chica se ve totalmente ida. Lo más triste es que estas fotos muestran que Lindsay no sabe con quien anda, ni quienes son sus amigos. Las fotos son de unas semanas antes de que Lilo entrara por segunda vez en Rehabilitación. News of The world has released some shocking pics of Lindsay Lohan playing with a knife. These pics were taken just weeks before she was admitted to rehab for the second time, Lindsay is captured holding a KNIFE to a friend's throat at a party. I feel sorry … or pitty for Lindsay she is lost and she doesn't know who are her friends… because these pics were sold by "friends" of lohan.

La fuente le dijo a NOTW (cuando dicen la fuente es uno de los amigos de Lilo, seguro):
Estas fotos son muy preocupantes. Lindsay está fuera de control. Ella no deberia estar ni a un millón de millas de un un cuchillo. En los estados en los que Lindsay ha estado, tiene suerte de estar viva. These photos are very worrying. Lindsay is so out of control. She should not be left within a million miles of a knife. The states Lindsay gets herself into she is lucky to be alive.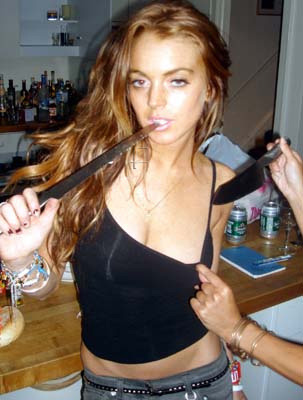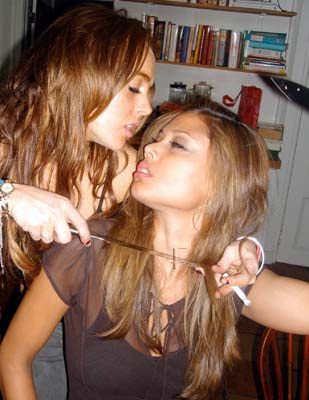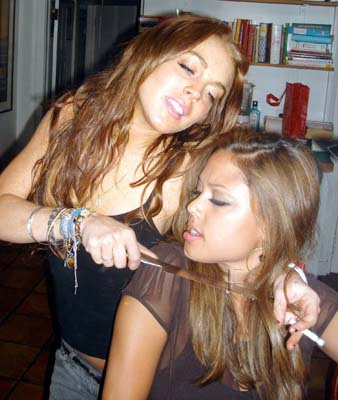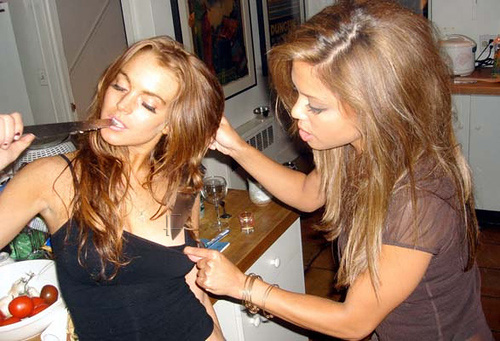 Además la fuente cuenta que Lindsay insultó a Paris y a Nicole, entre otras celebs:
PARIS HILTON: En una reunión de grupo ella gritó que su amiga Paris era una "bicha cocainómana" y no podía creer que estúpida ella había sido por haber manejado su auto mientras tenía la licencia suspendida. Ella dijo, Paris cree que está por encima de todos. Y no lo está. Paris es una estúpida vaca y merece lo que le pasa. "In one of her group meetings she yelled that her friend Paris was a coke whore and couldn't believe how stupid she'd been driving while banned. She said, 'Paris thinks she's above everyone. She's not. Paris is a stupid cow and deserves what she gets'."
Es gracioso que Lindsay diga que Paris se cree por encima de los demás, y que es una estúpida por manejar cuando su licencia estaba suspendida… Pues ella manejó llena de coca hasta los oídos, encima choca su vehículo y se va de la escena… quien es la estúpida ahora? Ojalá la sentencien igual que a Paris… A mi no me agrada Paris, creo que merece la sentencia que tiene, pero Lindsay también debe tener castigo por esto. I think is really funny that Lindsay said Paris was a coke whore (hahahaha and you are…) and she thinks above everyone… when Lindsay crashed her car in Hollywood and drug was found … Who is the STUPID COW now? For the records, I don't like Paris, I think she deserves what she get, but Lindsay deserves to go to jail too..
NICOLE RICHIE: Ella vio a una mujer que es bulímica y dijo, Es como Nicole. Qué problemas tiene Nicole? La chica solo necesita comer. Punto. "She saw a woman who is bulimic and said, 'She's like Nicole. What problems does Nicole have? The girl just needs to eat. Period'."
Gracioso, que Lindsay también fue como Nicole en un momento… ahh , de seguro ya no recuerda eso… huh? Lindsay doesn't remember she was so skeletal as Nicole… OMG!