Megan Fox Odia a Lindsay Lohan
La estrella de Transformers, Megan Fox odia a Lindsay Lohan. Ella debutó actuando con Lohan en "Confessions of a teenage Drama Queen" pero no se hicieron amigas. Megan no soporta que las comparen. Megan Fox hates Lindsay Lohan. She makes her acting debut in "Confessions of a teenage Drama Queen" alongside Lindsay but the pair didn't get on, And Megan can't stand comparisons being made between them.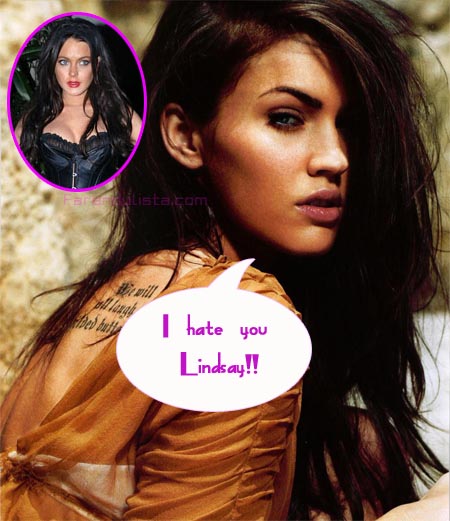 "Lindsay and I were never friends when we starred together. I mean, we were two 16-year-old girls, it's rare for two girls of that age to get along, and we didn't. "I can't believe people think we're alike?! Ugh!" Lindsay y yo nunca fuímos amigas cuando protagonizamos juntas. Lo que digo es que, éramos dos chicas de 16 años, es raro para dos chicas de esa edad llevarse bien, y nosotras no nos llevábamos. No puedo creer que la gente piense que somos parecidas?! Ugh!
Ha! Tal vez sí se parecen en algo y por eso ella la odia tanto. Esto lo dijo Megan en su entrevista con la Revista Arena.Las fotos de arena Magazine y unas de Megan en New York.
Images: Megan-Fox.net
Photos: CU

[bgs]Megan Fox, fotos[/bgs]