PETA llama a Las Gemelas Olsen, Las Trollsen Twins
Ashley y Mary Kate Olsen han sido llamadas las "Trollsen Twins" en la nueva campaña de PETA. La organización en contra del uso de pieles y protección animal tiene a Ashley Olsen y su gemela Mary-Kate como sus nuevos objetivos. En el nuevo anuncio promocional se puede ver a las Olsen tras el titular "Fur is worn by beautiful animals and ugly people", Mary-Kate and Ashley Olsen: The only bigger fashion victims are animals -"La piel es vestida por hermosos animales y feas personas" – Mary-Kate y Ashley Olsen: Las únicas víctimas de la moda son los animales, este aviso será desplegado en el Paseo de la Fama – Walk of Fame en el Hollywood Boulevard – donde se encuentra la estrella de las Gemelas Olsen. PETA ataca a las Gemelas Olsen por usar pieles reales e incluírlas en sus colecciones de ropa Elizabeth and James y en The Row. Además de este anuncio, PETA ha lanzado un website dedicado a "Hairy-Kate" (Kate la peluda) y "Trashley" (Basurashley). In a new ad campaign to be unveiled today at the Olsens' Walk of Fame star on Hollywood Boulevard, PETA blasts the Olsen Twins, Asghley and Mary-Kate, whom they dub the "Trollsen Twins for wearing fur and including it in their collections Elizabeth and James and The Row. The new ad features the twins above the headline "Fur Is Worn by Beautiful Animals and Ugly People." To coincide with the ad, PETA has also launched a new web site devoted to "Hairy-Kate" and "Trashley."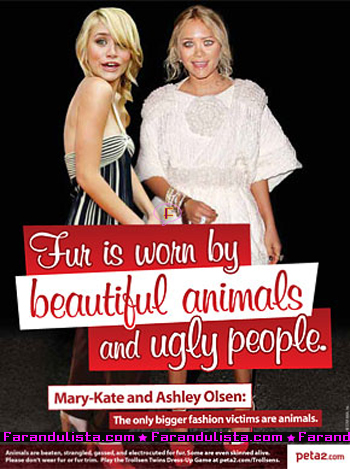 Estoy en contra del uso de pieles, pero veo que PETA solo ataca a ciertas celebridades, Sharon Stone usa pieles y Beyonce también, por nombrar a dos. Y solo he visto ataques a Paris Hilton y a las Olsen. Qué, las demás celebs no cuentan? O sólo son importantes las pieles de los trajes de dos o tres celebs en todo Hollywood? No sé… pregunto.
[tags]Gemelas+Olsen, Ashley+Olsen, Mary+Kate+Olsen, PETA, Trollsen+Twins, Peta+Insulta+a+las+Olsen[/tags]
[bgs]Gemelas Olsen, Ashley Olsen, Mary-Kate Olsen[/bgs]