La Posh encabeza la lista de las Peor Vestidas de Mr Blackwell
La Posh Victoria Beckham encabeza la temida Lista de Las Peor Vestidas de Mr. Blackwell (2007) – Mr. Blackwell's 48th Annual Worst-Dressed Women List. Como siempre Mr. Blackwell comenta de manera cínica y con humor (negro) el por qué de sus seleccionadas. Este año entre las Peor Vestidas de Mr. Blackwell también se encuentran: Lindsay Lohan, Jessica Simpson, Avril Lavigne, Fergie, Kelly Clarkson, Amy Winehouse, Mary Kate Olsen. Britney Spears – quien fue la número uno en la edición pasada – esta vez quedó fuera, por razones obvias. El Sr. Blackwell colocó un comentario al pie de su lista. Posh Victoria Beckham tops Mr. Blackwell's 48th annual worst dressed women list. Mr. Blackwell made some cinical and funny comments on the "winners". This Year Britney -who was number one last year – was left off. The other celebs who are named as Worst Dressed this year are: Lindsay Lohan, Jessica Simpson, Avril Lavigne, Fergie, Kelly Clarkson, Amy Winehouse, Mary Kate Olsen. Mr. Blackwell added a note at the end of his list:
Para aquellos que estaban esperando ver el nombre de Britney adornando la lista del 2007, siento que es inapropiado en este momento hacer comentario, cuando su vida personal es un desastre. Espero que el 2008 sea un mejor año para ella. – Mr. Blackwell – "For those of you who were expecting to see Britney's name adorn the 2007 list, I felt that it was in appropriate at this time to make comment, when her personal life is in such upheaval. I hope 2008 is a better year for her."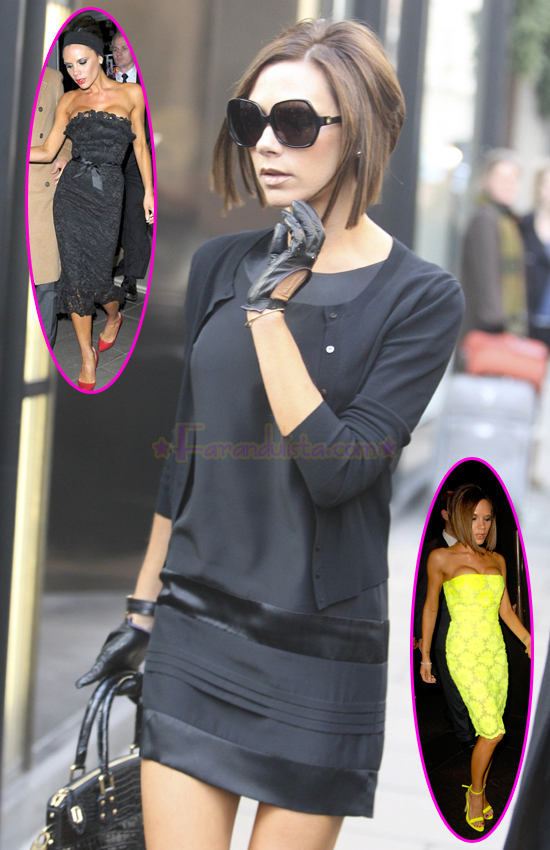 La Lista de Mr. Blackwell de las Peor Vestidas (2007) / Mr. Blackwell's 48th Annual Worst-Dressed Women List
1.- Victoria Beckham: Olviden la moda picante – vestir una mini falda debería bastar. En una mini monstruosidad superflaca luego de otra, el plástico elegante puede arruinarlo. "Forget the fashion spice – wearing a skirt would suffice! In one skinny-mini monstrosity after another, pouty posh can really wreck-em."
2.- Amy Winehouse: Colmenas que explotan por encima, ordinarios puntos debajo, ella es parte del horror de los 50'. "Exploding beehives above…tacky polka-dots below… she's part 50's car-hop horror."

3.- Mary Kate Olsen: Ewww… envuelta en capas de mal gusto, el look de Mary-Kate es difícil de explicar… ella parece un andrajoso mondadientes atrapado en un huracán. "YIKES! In layers of cut-rate kitsch, Mary Kate's look is hard to explain… she resembles a tattered toothpick-trapped in a hurricane!"

4.- Fergie: Otro estilo libre de Fergie en el salón de la verguenza de la moda? Sí, cuando hay un caos en la moda, adivina, es un solo nombre. "Another style-free 'Fergie' in fashion's hall of shame? Yes, when it comes to couture chaos, guess it's all in a name!"
5.- Kelly Clarkson: Sus subidas de voz divinas están por encima del resto… pero esas "bombas" con la barriga afuera son horrorosas! Ella puede ser la reina del pro-active pero su guardarropa parece radioactivo! "Her heavenly voice soars above the rest… but those belly-baring bombs are hellish at best! She may be the queen of 'Pro-Active' – but that wardrobe looks downright radioactive!"

6.- Eva Green: Atraparse en las pesadillas de neón no es apto para la salud. La moda a este nivel podría darle un dolor de cabeza a Bond! Una profusión de confusión de la cabeza a los pies! "Stuck in neon nightmares not fit for the sane. Fashion this loud could give Bond a migraine! A profusion of confusion from toes to nose!"

7.- Avril Lavigne: Maquillaje gótico cortesía de la loca espátula de la moda, cortesia de… La casa de Drácula. "Gothic make-up courtesy the mad spatula-Fashions provided by.. The house of Dracula!"

8.- Jessica Simpson: Olvida a los vaqueros. Con gritos de reinas de secundaria, Puede algo ponerse peor? Ella es una maldición de la moda mundial! "Forget the Cowboys. In prom queen screams, can it get any worse? She's a global fashion curse!"

9.- Lindsay Lohan: Lindsay el frenesí de moda ataca otra vez! Lohan lleva la moda un nuevo descenso. "Lindsay the fashion frenzy strikes again! Lohan takes fashion to a new low."

10.- Alison Arngrim: La pequeña Nellie de la pradera, parece como una Editora de Modas de los 40' de un almanaque de granjeros. "Little Nellie of the prairie, looks like a 1940's fashion editor for the Farmers Almanac."
[tags]Peor+vestidas+Mr+Blackwell+2007, Lindsay+Lohan, Avril+Lavigne, Kelly+Clarkson, Mary+Kate+Olsen, Fergie+Stacy+Fergunson[/tags]
[bgs]Lindsay Lohan, Fergie, Avril Lavigne, Mary Kate Olsen, Victoria Posh Beckham[/bgs]