Madonnna en Interview Magazine [Abril]
Madonna posa para la portada de Interview magazine, en su edición de Abril 2008 y en la entrevista habla sobre África, su nuevo disco y la libertad. En la fotografia de la portada por Steven Klein, Madonna aparece en un ring de boxeo, demostrando que ella aún está peleando. Madonna does the April 2008 issue cover of Interview magazine and talks on Africa, her new album with Justin Timberlake and freedom. In the cover shot by Steven Klein Madonna poses in a ring showing she's still fighting.
Vivimos vidas muy cómodas, y desafortunadamente tenemos que vivir y ver de cerca el sufrimiento de otras personas para darnos cuenta cuánto tenemos y cuánto tenemos que estar agradecidos. "We live very comfortable lives, and unfortunately, we have to have our noses rubbed in other people's pain and suffering to realize how much we have and how much we have to be grateful for."
[…] …fue divertido, porque [Justin Timberlake] es abierto y tiene talento. Es un compositor. No he trabajado con muchos compositores donde instantáneamente nos conectemos y comencemos a tocar con el ritmo de las palabras. Él estaba interesado en el ritmo de las palabras y el significado de las mismas. […]that was fun, because he's open and he's got talent. He's a songwriter. I haven't worked with a lot of songwriters where I'm instantly connected and start riffing and playing with the rhythm of the words. He's as interested in the rhythm of the words as the meaning of the words."
Libertad es una palabra graciosa porque cuando creemos que somos libres, realmente no lo somos. Creo que la libertad es un poco ilusoria… Cuando dejo de pensar en mi misma todo el tiempo y coloco a otras personas primero que yo en situaciones básicas, esa es la verdadera Libertad. Cuando puedo amar incondicionalmente… entonces esa es la verdadera libertad. Así que es algo para esforzarse, pero yo no soy libre. Freedom is a funny word because when we think we're free, we're not really. I think freedom is quite illusory… When I stop thinking about myself all the time and put other people before me on a regular basis, that's real freedom. When I can love unconditionally… then that's real freedom. So it's something to strive for, but I'm not free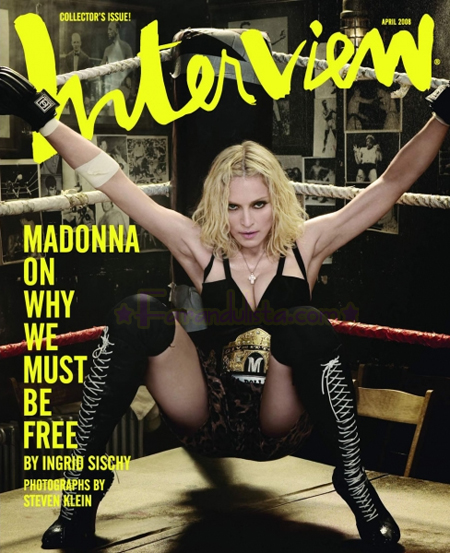 Madonna en la portada de Interview Magazine[Abril]
[tags]Madonna, Interview+magazine+abril+2008[/tags]
[bgs]Madonna[/bgs]