JC Chasez no esta saliendo con Chace Crawford
JC Chasez (NSYNC) y Chace Crawford (Gossip Girl) no estan saliendo. JC Chasez ha desmentido en Kiss-FM 104.7 los rumores en internet que afirman que él y el galán de Gossip Girl, Chace Crawford son pareja. JC dice que el entiende por qué la gente supone que ambos son pareja, la razón es que siempre les ven juntos en cierto tipo de fotografías así que la gente asume que es así. Que siempre están asumiendo cosas, si él sale con una chica, está buscando otra y tengo una aventura. Así que como ahora no hay nada que decir, estoy saliendo con un chico. Es estúpido! El NSYNC declaró:(ver cita) JC Chasez and Chace Crawford aren't dating. JC Chasez denied Internet rumors linking him to the Gossip Girl hottie, on Kiss-FM 104.7 on Wednesday. Chasez said he understands why people may think they're an item."The only time people usually see us together is in some type of photograph, so they just assume that it's like that," he said. "If I'm dating a girl and I'm standing next to another girl, I'm having an affair " Chasez went on. "So now, since there hasn't been any of that smoke out there, if I'm hanging out with a guy, they're going to make up a rumor. "It's just stupid."
Para que sepan, ambos somos heterosexuales. No estamos saliendo. "For the record, we're both straight," Chasez declared. "We're not dating."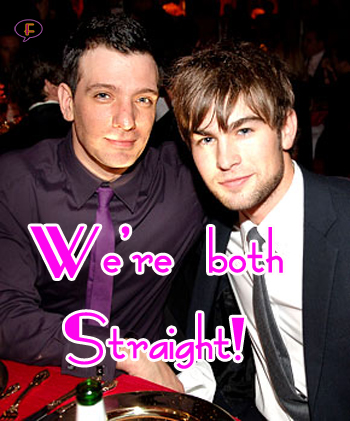 JC Chasez y Chace Crwford no son pareja
Mmmm… bueno tampoco ayuda el hecho de que Carrie Underwood, quien salía con Chace Crawford, declaró que ya no son pareja. Well, tal vez es pura casualidad… come on! Well, Carrie Underwood said in a radio interview that she is no longer dating Chace Crawford… It's not helping!
[tags]JC+Chasez, Chace+Crawford, Gossip+Girl[/tags]
[bgs]JC Chasez, Chace Crawford[/bgs]