Nicole Richie habla de su familia en Harpers Bazaar [Junio]
Nicole Richie posa con su hermosa familia en la próxima edición de Junio de Harper's Bazaar. Nicole quien es conocida por su pasado turbulento como niña problemática de Hollywood habla sobre la maternidad y la familia. Nicole, su novio Joel Madden, su hermosa bebita Harlow Winter Kate (quien fue el centro de atención) y el padre de Nicole, Lionel Richie, posan en una sesión de fotos encantadora, llevada a cabo en la residencia del orgulloso abuelo en Beverly Hills. Nicole en tras de bastidores con Extra comenta sobre ser la primera del círculo de amigos en ser madre, cambiar pañales (que según ella, Joel lo hace con más frecuencia) y sobre los paparazzis constantenmente tratando de tomar fotos de baby Harlow. Sobre esto expresa que es aterrador, ella solo quiere que les dejen en paz, tener a esa gente a su alrededor le pone muy nerviosa. Esta edición de Harpers Bazaar sale a la venta el 20 de Mayo. Nicole Richie poses for the June issue of Harper's Bazaar, and opens up on the motherhood and family. Nicole posed with her fiance Joel Madden, grandpa Lionel Richie and her beautiful baby Harlow as the center of glamourus shot, which took place at grandpa residence in Beverly Hills. Richie tells to Extra that she is the first in her circle of friends to have a baby, how new dad and fiancé Joel Madden handles diaper duty and constantly hounded by the paparazzi, Nicole is hopeful their prying lenses will leave her family alone.The issue hits newsstands on May 20th.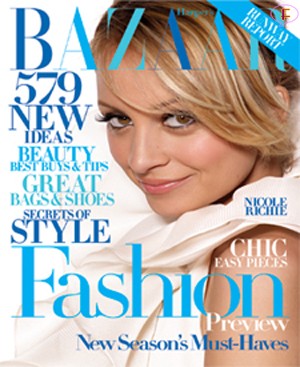 Nicole Richie en la portada de Harper's Bazaar – Junio 2008
Mas fotos de Nicole Richie y su hermosa familia posando para Harper's Bazaar aquí.
harper'sbazaar/extra
[tags]Nicole+Richie, Joel+Madden, Harlow+Winter+Kate, Harèrs+Bazaar+magazine+Junio+2008[/tags]
[bgs]Nicole Richie, Joel Madden[/bgs]