WTF? Madonna parece extraterrestre!!
OMG!! Qué le pasó a la cara de Madonna? Es tanto el photoshop y la edición en los videos? Madonna fue fotografiada con su hija Lourdes saliendo del centro de Kabbalah en New York sin maquillaje y con una camiseta que dejaba ver sus musculosos y venosos brazos y WTF? Parece un extraterrestre!! Espantosa!! Sus pómulos… Gosh! Madonna siempre se ha mantenido al margen de discutir sobre las cirugías plásticas, tal parece que este será uno de esos casos… Madge you look like hell. Madonna was spotted holding hands with her daughter Lourdes leaving a Kabbalah centre in New York, Madge wore a T-shirt which exposed the veins standing out on arms subjected to endless workouts.  But OMG!! Her Face!! She looks like hell, OMG!! She looks UGLY! Madonna has remained enigmatic on the subject of cosmetic surgery, saying: 'I am certainly not against plastic surgery; however, I am absolutely against having to discuss it.'
Ciertamente no estoy en contra de las cirugías plásticas, pero absolutamente sí en la necesidad de discutirlo.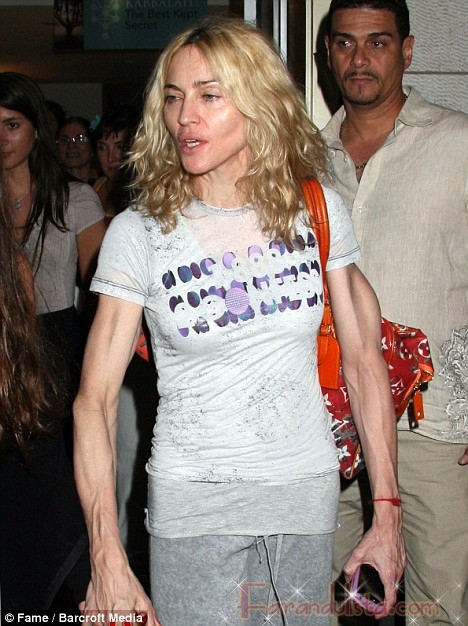 [bgs]Madonna[/bgs]