Vanessa Hudgens en Teen Vogue [Septiembre]
Vanessa Hudgens, la estrella de High School Musical, aparece en la portada de Teen Vogue magazine, en su edición de Septiembre 2008. Cuando se le preguntó por sus fans, Nessa contestó que sin ellos no eres nadie. Vanessa Hudgens comprobó esto,  su reciente album"Identified" debutó con ventas decepcionantes, en su primera semana solo vendió 22 mil copias. Vanessa Hudgens from High School Musical does the September issue of Teen Vogue magazine. When Teen vogue asked her on her fans, she replied: "Your fans are the ones that support your movies. Without them, your career is over."  She knows it, her latest album Identified debuted to disappointing numbers, Identified sold a mere 22,000 copies in its first week. Maybe the fans has already identified her!
Tus fans son los que apoyan tus películas. Sin ellos, tu carrera está acabada.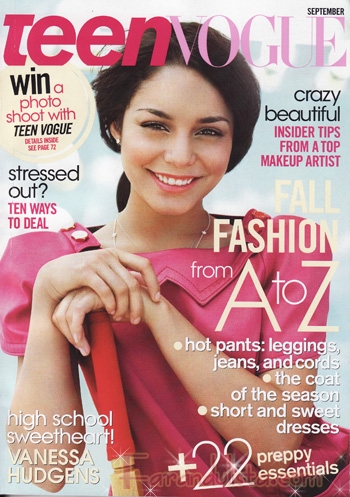 Vanessa Hudgens en la portada de Teen Vogue [Sept]
[bgs]Vanessa Hudgens, High School Musical[/bgs]