Jamie Lynn Spears traicionada por Casey [InTouch]
Jamie Lynn Spears ha sido traicionada por su prometido Casey Aldridge, según reporta la nueva edición de In Touch magazine. El tabloide tiene hasta una foto de la otra (que de paso tiene una cara de… otra!),In Touch afirma que Casey tiene un año de romance con esta mujer mayor, quien es la que está ofreciendo la entrevista al tabloide (Alert! Attention Wh*re!!) . La supuesta amante de Casey Aldridge,  Kelli Dawson afirma que ellos dormían juntos cuando Jamie estaba de seis meses de embarazo, que esto (el embarazo de Jamie) los unió más y que aún ahora se ven al menos una vez a la semana. La 'otra' incluso comenta que ella y Casey dejaron de acostarse meses antes de que Jamie diera a luz a Maddie Briann, porque a ella le parecía que no estaba bien (oooh! Tan buena la …) y debía terminar la relación. Pero aclara que aunque ya no duermen juntos aun se besan de vez en cuando. OMG!! What a Biatch! I don't buy it! No creo esa historia, además hay miles de fotos que confirman que Casey se la pasaba todo el tiempo con Jamie.  The new issue of In Touch magazine claims that Jamie Lynn Spears was betrayed by her fiance Casey Aldridge. Casey had an affair with an old women who is the source of the story. The attention wh*re, Kelli Dawson reveals that she and Casey Aldridge were romantically involved and were still sleeping together when Jamie Lynn was six months pregnant with his child. Casey and Kelli's relationship grew in intensity, even as Jamie Lynn announced she was pregnant. And, Kelli says, they still meet up on a regular basis. "I see him all the time, at least once a week," she shares.  Kelli says she and Casey stopped sleeping together a few months before Jamie Lynn gave birth to their daughter, Maddie Briann. "It just didn't feel right," she explains. "He had to deal with the baby coming, and it had to stop." She says the last time the couple had sex together was in March but "even after we stopped having sex, we would still kiss occasionally."  Come on! She's lying.
UPDATE! De acuerdo a TMZ fuentes muy cercanas a Casey Aldridge afirman que la historia de In Touch es FALSA! Casey no estuvo con esa mujer mientras Jamie Lynn estaba de seis meses de embarazo, incluso Casey afirma que esa foto (de la portada) fue tomada mucho antes de que él y jamie Lynn comenzaran su relación.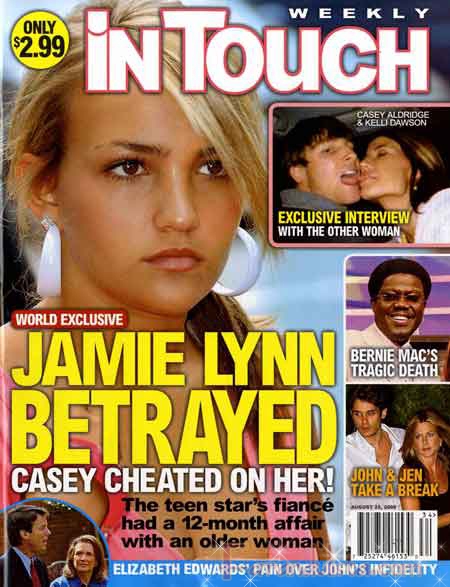 In Touch Jamie Lynn is betrayed
Jamie Lynn Spears es traicionada, Casey la engañó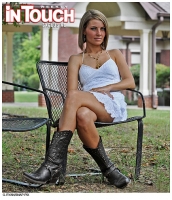 [bgs]Jamie Lynn Spears, Casey Aldridge[/bgs]