Que promociona Paris Hilton aqui?
Paris Hilton estuvo en una sesión de fotos en Malibú donde se 'suponía' debía promocionar un artículo. Pueden adivinar cual es? Serán… Lentes de sol? Un bar? Calzado ortopédico? Pues no, Paris Hilton promociona la cinta que tiene en la cabeza!!! Yeahh baby! Paris lleva puesta la primera cinta de extensiones (de cabello) intercambiables. Paris no aprende, ella siempre quiere ser el centro de atención, tanto así,  que olvidó mostrar lo que debía promocionar. Además se encargó de tener su nombre visible en su horrible traje de baño, por si acaso alguien lo olvidaba. El cabello falso de Paris es 100% polyster y va pegado a la cinta con velcro, dicen sus inventores que la cinta de extensiones intercambiables es toda una innovación porque puedes cambiar tu look en minutos. OMG!! Voy corriendo a comprar una! Gosh, en serio, alguien compra esto? Yikkesss! Paris Hilton was supposed to be promoting the Bandit band – which is billed as the first interchangeable hair extension headband, but clearly couldn't resist the opportunity to be centre of attention. During the promotional photoshoot in Malibu Paris was wearing a fug swimsuit with her  stupid name emblazoned across it and a tiny skirt, of course, she forgot to show the headband. "I have been wearing extensions for years, and there is nothing out there like this product. Every woman should have one." The faux hair is 100% polyester and attaches to a headband with velcro – an innovation the product's inventors say makes it possible for anyone to 'change their look within minutes'.  WTF? Who uses this crap?

He usado extensiones de cabello durante años. Y no existe nada como esto. Toda mujer debe tener una.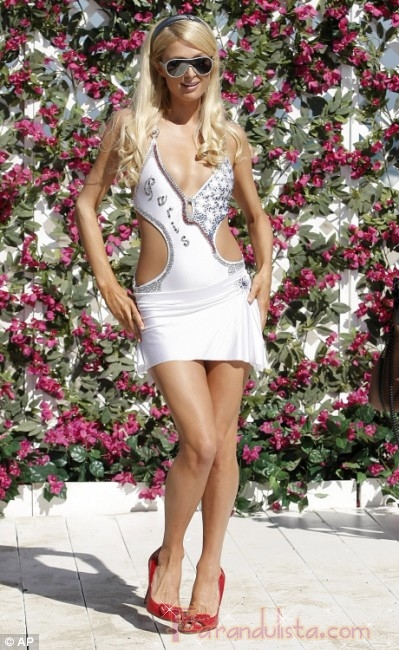 Paris Hilton posa para sus cinta de extensiones intercambiables
dailymail/AP/REX Features/
[bgs]Paris Hilton, sexy[/bgs]