Miley Cyrus quiere que la despidan de Disney
Miley Cyrus y su padre Billy Ray quieren enfocarse en la música y el show Hannah Montana les importa un rábano, por esta razón sus conductas en el set han provocado una guerra. Según un espia de TMZ, Miley se jacta de que será despedida del show y ella se dedicará de lleno a la música. Por su parte Papa Cyrus ha dejado claro que la música les genera más MONEY que el show de Disney, y ambos Cyrus han empezado a llegar super tarde a las grabaciones lo que provoca molestias en todo el equipo de producción y en el elenco. Emily Osment – Lilly Truscott en Hannah Montana – solía estar muy unida a Miley, pero desde que Miley se cree la Diva, está amargada y simplemente ni se hablan. También se dice que el padre de Osment se cayó a gritos con Billy Ray en el set por quejarse de que Miley y él eran poco profesionales. BIlly Ray ha comentado en el set que Miley hará 12 episodios más y están fuera de Disney. DIsney está tan furioso porque Miley y Billy son unos desagradecidos,  que han llamado a su agente y le ha dicho de todo menos guapo. Disney no solo insiste en que Miley y Billy Ray terminen los 24 episodios de la temporada, si no que solicitaron 12 más.
Miley and Billy Ray Cyrus want off "Hannah Montana," and their conduct is so ridiculous that it has triggered a war on the set. Miley has bragged that she will get fired, making it clear she wants to focus on singing and not the show. For his part Billy Ray has also made it clear that there is more money in singing than a Disney cable show. As a result, the Cyrus team has been showing up to the set ridiculously late, stalling production and infuriating cast and crew.  Emily Osment, who plays Lilly Truscott, used to be extremely tight with Miley. Now Emily is so bitter she literally turns away from Miley after each scene. We're told Emily's dad got in a screaming match with Billy Ray, complaining he and Miley were unprofessional.  Sources told TMZ Billy Ray has told people on the set that he and Miley will do twelve more episodes and then they are out. Disney was so pissed they called his agent, railing that Billy Ray and Miley were ingrates. Disney insisted that Billy Ray and Miley not only finish the twenty-four episode season , but Disney was adding six more episodes.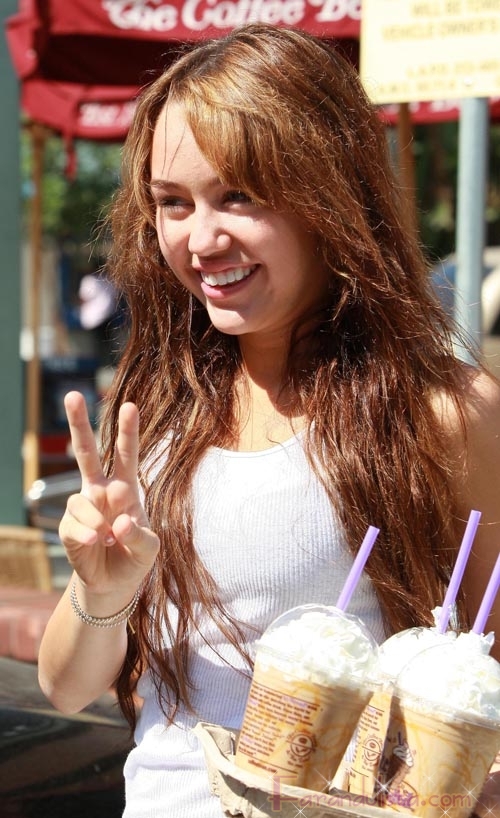 Miley Cyrus fue por su café al Coffee Bean en Toluca Lake
(20/09)
Flynet
[bgs]Miley Cyrus, Hannah Montana[/bgs]