Miley desmiente rumores de Hannah Montana y peleas en el set
Los fans de Hannah Montana pueden respirar aliviados. Miley Cyrus ha desmentido los rumores que afirman que quiere ser despedida de Hannah Montana para dedicarse a su carrera como cantante. TMZ reportó este fin de semana – citando a una fuente –  que Miley y su padre Billy Ray se estaban comportando muy poco profesionales en el set de la serie porque no les interesaba seguir trabajando para Disney.  Obvio esa fuente no le tiene cariño a Miley. Miley ha declarado a People estar muy comprometida con Hannah Montana y agradecida por la oportunidad que le ha dado el show, la chica sabe que sin esta oportunidad no lo hubiese podido lograr lo que tienen ahora. Vaya, por lo menos es inteligente en aceptar que sin Disney solo la conocerían sus amigos. Un representante por Disney declaró que solo son chismes sin base. De acuerdo a una fuente (de People) Miley es muy dedicada al show y siempre está puntual en las grabaciones. Miley y Emily son como hermanas, y aunque a veces tienen desacuerdos, nunca afectan sus trabajos porque terminan haciendo las paces rápidamente. Anyway, habrá Hannah Montana para rato. Despite reports of an early exit because she wants to be fired from Hannah Montana. Miley Cyrus denied all those reports saying she's fully committed to her popular Disney tv show.  "I am fully committed to Hannah Montana. It's what gave me this amazing opportunity to reach out to so many people," Cyrus tells People, adding, "I couldn't do it alone. We have an amazing cast that is so supportive, including my dad who has been there for me every step of the way."  Over the weekend TMZ reports that MIley, 15, and her dad, Billy Ray Cyrus, have been causing some drama on the Disney Channel set by coming to work late and openly talking about wanting to get fired. There were also rumors of a rift between Miley and her costar Emily Osment.
Estoy enteramente comprometida con Hannah Montana. Es lo que me ha dado la oportunidad de conocer a tanta gente. No podría haberlo hecho sola. Tenemos un elenco extraordinario el cual siempre ha apoyado el show, incluyendo a mi padre quien siempre ha estado allí en cada paso.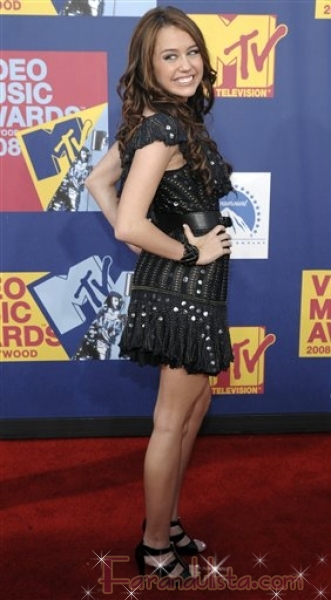 Miley Cyrus desmiente que desee ser despedida de Hannah Montana
[bgs] Miley Cyrus, Hannah Montana, Disney[/bgs]