Si Hannibal Lecter la ve, se la almuerza
Jessica Alba ha posado para otra campaña de Declare Yourself en pro del voto. Con estás 'impactantes' imágenes (ppsss) intentan alentar a los jóvenes a registrarse y ejercer su derecho a votar. En la primera promoción Alba aparece maniatada, esta vez Jessica y nuevamente, demuestra sus 'habilidades histriónicas' posando con una máscara estilo Hannibal Lecter y lágrimas que caen por sus mejillas. Jessica no lleva maquillaje (supuestamente) y trata hacernos creer que llora. Anyway, la campaña intenta hacer que los jóvenes participen en las elecciones y el mensaje: si no votas, no opinas por lo tanto debes permanecer callado.  Jessica Alba does a new ad for Declare Yourself.  She poses bare-faced and tearful in a Hannibal Lecter-style mask,  she urges young people to register to vote or face being 'silenced'. With barely any make-up, scraped-back hair and tears running down her cheeks, Jessica shows that she have no idea how to act. Declare Yourself : Only you can silence yourself. If Hannibal see this ad, I'm sure he eats her!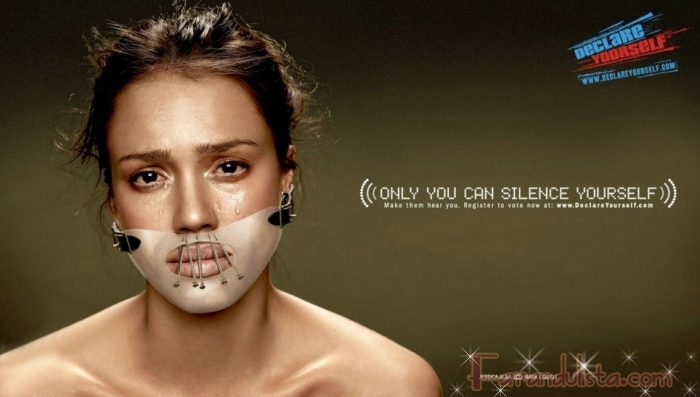 Jessica Alba posa al estilo Hannibal Lecter para Declare Yourself
Qué opinan Farandulistas, está mejor o peor quela promo anterior?
[bgs]Jessica Alba[/bgs]