Brangelina en la premier de Changeling en New York
Angelina Jolie ha hecho su primera aparición pública (desde el nacimiento de los gemelos Vivienne y Knox) en la alfombra roja del estreno de su más reciente film 'Changeling' del Director Clint Eastwood, en el Ziegfeld Theater este sábado (4/10) en New York. Una Angelina muy sonriente y feliz, junto a su compañero Brad Pitt firmó autógrafos y sonrió a las cámaras en el 46th New York Film Festival. Dicen que la actuación de Ange en este film como una madre en búsqueda de su hijo secuestrado, es merecedora de un Oscar. Angelina vistió un vestido negro strapless Atelier Versace, unos hermosos zapatos Sergio Rossi y accesorios de Mikimoto. Angelina Jolie attend the premiere of "Changeling" at Ziegfeld Theater on October 4, 2008 during the 46th New York Film Festival in New York City. Angelina was scorted by Brad Pitt and she smiled for the cameras, she looks beautiful in a black strapless Atelier Versace dress, with Sergio Rossi shoes and accessorized Mikimoto pearl earrings and ring . Angelina's performace as a mum searching for her kidnapped son is already being tipped as Oscar worthy.  Changeling is a film by the Director Clint Eastwood.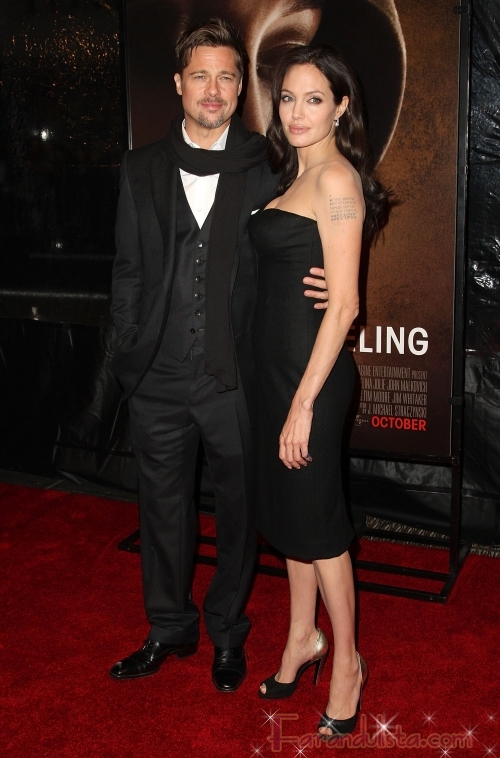 Angelina y Brad en el estreno de Changeling en New York
(4/10)
 Andrew H. Walker/Getty Images     
I love her shoes!
[bgs]Brangelina, Angelina Jolie, Brad Pitt[/bgs]