Pete Wentz dice que su vida sexual con Ashlee es magnifica
Pete Wentz ha revelado en una entrevista en el programa de radio de Howard Stern, que Ashlee Simpson es asombrosa en la cama. Dime de lo que haces alarde… También afirmó que su vida sexual con Ashlee es magnífica porque tienen mucha química sexual. Actualmente por la llegada de su hijo BMW, Bronx Mowgli Wentz  hace pocas semanas no tienen relaciones, pero que hacen cosas divertidas. El Fall Out Boy también reveló a Stern que Ashlee le hace bailes eróticos muy buenos, vistiendo tangas y ropa sexy. OMG!! My brain!!! Thank you very much Pete! Ahora tendré que lavarme el cerebro con ácido para poder borrar esa imágen… Gosh!!!

Pete Wentz revealed that wife Ashlee Simpson is "awesome" between the sheets during a raunchy interview on Howard Stern's radio show Tuesday,"We have an amazing sex life," "We have such sexual chemistry," he went on. "If we had been on this show last year, we'd probably be doing it in the green room right now.Currently, they don't have sex — "the kid's [a few] weeks old," Wentz explained — but "we do other fun stuff."  Pete Wentz also told Stern that Ash also "loves giving me lap dances. She gives a mean lap dance." She wears thongs and "sexy clothes," he noted. Ewww… OMG!! Now I'm going to have nightmares!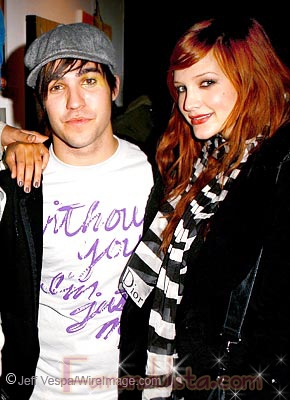 Pete Wentz habla de su magnífica vida sexual con Ashlee Simpson
[bgs]Pete Wentz, Ashlee Simpson[/bgs]