Jessica Simpson no esta gorda solo mal vestida
Jessica Simpson no ha ganado tanto peso como todos los medios afirman, todo fue producto de malos ángulos y muy mal gusto para vestir. Una fuente muy allegada a la muy molesta familia de Jess lo afirma y culpa al estilo de ropa y los ángulos nada favorecedores. According to a source very close to Jessica Simpson, her weight hasn't actually changed much at all over recent times despite reports to the contrary. Jessica is not fat, it has more to do with bad styling and an unfriendly angles.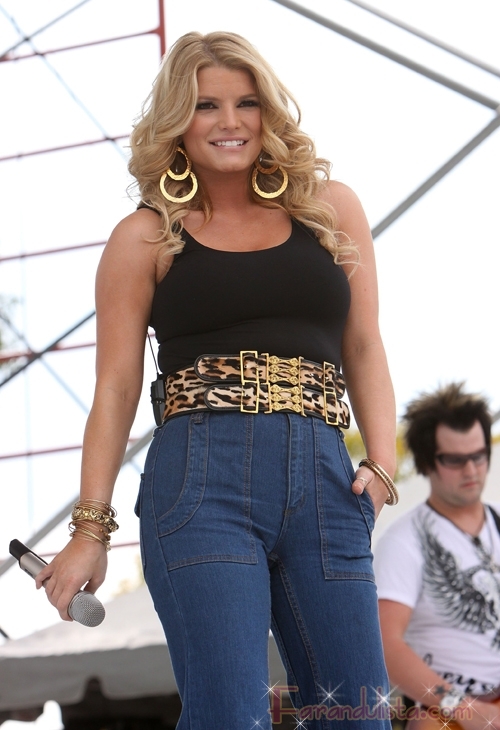 Ella es una chica normal como cualquier otra que sube o baja de peso pero no ha ganado tanto. Fue un muy poco favorecedor atuendo y un muy mal ángulo. Si ves fotos tomadas unas semanas antes nadie dijo nada sobre su aumento de peso, ahora de repente ella es considerada gorda. No es posible.

"She's a normal girl and like everyone fluctuates a little but there is no way she gained that much weight," an insider assured Tarts. "It was a really unflattering outfit and a really bad angle. You look at photos taken of her just a couple of weeks earlier and nobody said anything about weight gain, now all of a sudden she's considered fat. Not possible."
A ver, cuando dicen que Jessica está gorda es en comparación a su peso y contextura anterior. Pero tampoco se puede tapar el sol con un dedo diciendo que no ganó tanto peso, la chica está gordita. Mirenle los brazos, las piernas, los hombros, la cara… Jess ganó mas de 10 kilos. Obviamente, los outfits con los que se presentó no la ayudaban en nada porque le hacían ver muchísimo más pesada. Pero sinceramente, todo esto me parece una artimaña, mañana Jess aparece delgada de nuevo y todo el mundo: Wooowww cómo bajó de peso???!!! Y Jess posando en bikini en todas y cada una de las portadas de revista (léase: Us magazine, InStyle, Star, etc) contando cómo logro su esbelta figura en tres semanas… El fin!
[bgs]Jessica Simpson[/bgs]