Rihanna estaba embarazada? Star magazine
La nueva portada de Star magazine pregunta, Estaba Rihanna embarazada? Y colocan una foto de Rihanna y Chris Brown que ya tiene tiempo… O sea! Según el tabloide, antes del terrible incidente,  Rihanna pensó que estaba embarazada y fue al ginecólogo para salir de dudas, ella estaba asustadísima porque su relación con Brown no iba nada bien y un embarazo provocaría que él la dejara. Pop Fiction? Realidad? Lo más triste de todo esto es que  aún no hay cargos contra Chris Brown porque no hay evidencias suficientes … OOh God… creo que cuando a Rihanna se le pase la depre vuelve con Chris… Just Sayin' The new cover issue of Star Magazine asks: Was Rihanna Pregnant? According to the tabloid, Rihanna thought she was pregnant with Chris Brown's baby and consulted a Ob-Gyn. She hid this from Chris, because she feared Chris would get upset and would dump her when she told him the news.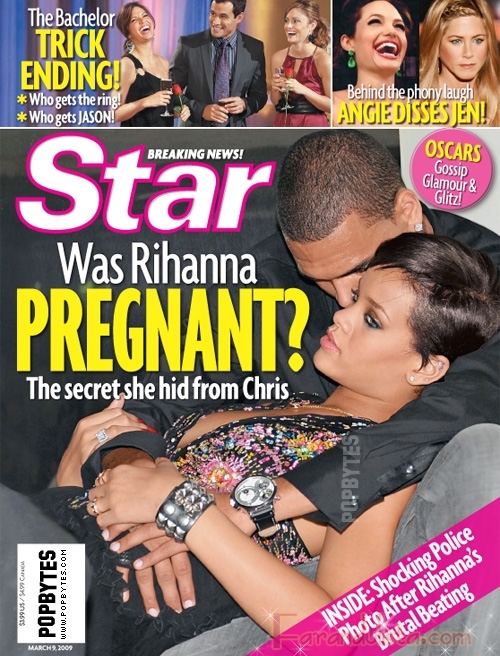 Estaba Rihanna embarazada antes de la golpiza que le dio Chris Brown?
popbytes.com
En la edición 9 de Marzo de Star – reportamos que dias antes del terrible incidente, Rihanna consultó a un ginecólogo en el Cedars-Sinai Medical Center luego de confesarle a sus amigos que sospechaba que estaba embarazada de Chris Brown.

In the March 9 issue of Star – we exclusively report that days before the terrifying incident, Rihanna consulted an ob-gyn at Cedars-Sinai Medical Center after confiding to close friends that she suspected she was pregnant with Chris' baby.

Con lentes oscuros y vestida toda de negro, ella parecía nerviosa y molesta. "[Rihanna] estaba muy inquieta. Se veía totalmente incómoda" un testigo en la oficina del doctor contó a Star.

Wearing sunglasses and dressed in all black, she appeared nervous and upset. "She was extremely fidgety. She seemed totally uncomfortable," an eyewitness at the doctor's office tells Star.

Con su relación con Chris en problemas, Rihanna temía que un embarazo provocaría que Chris la dejara.

With their relationship already on rocky ground, Rihanna feared a pregnancy could be the last straw and Chris might dump her.
No, pero es que lo de Angelina y Jennifer Aniston.. Gosh! Ellos dicen que la risa de Ange era burlándose de Jen. Creo que no hay una sola edición de Star donde no se hable de el trio Ange-Jen-Brad. Y las fotos que colocaron ? HILARIOUS!  Angelina con cara de Bruja de Blanca Nieves riéndose y Jen con su cara de terror del Oscar… ROLF!