Fotos de la boda de Kendra Wilkinson en la Mansion Playboy
Kendra Wilkinson se casó con su prometido Hank Baskett este sábado (27/06) en la Mansion Playboy. Finalmente, Kendra quien ya está embarazada contrajo matrimonio, vistiendo un hermoso traje de Michael Barin, valorado en $100,000. Las damas de Honor iban de Lavanda y el novio de Blanco. Kendra Wilkinson wed her NFL player beau Hank Baskett at her onetime residence, the Playboy mansion, on Saturday. At around 6:45 p.m., Kendra, 24, walked down the aisle in a white dress, dripping in more than $100,000 worth of platinum jewelry by Michael Barin, including drop earrings, a pendant and bracelet. The groom also wore white, as did the groomsmen, while the bridesmaids were in lavender.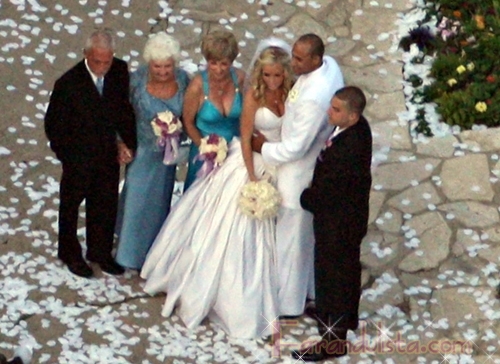 Kendra Wilkinson junto a su esposo y familiares

posando para los fotógrafos en su boda (26/06)

Fame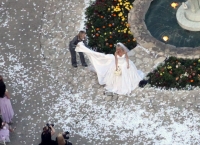 It's funny,  de blanco… ex conejita Playboy y embarazada… LOL!