Brad Pitt habla de etiqueta online y Twitter en Wired magazine
Brad Pitt aparece en la portada de Wired magazine (edición de Agosto 2009) – como su personaje en Inglourious Basterds– y habla sobre, móviles, la etiqueta en internet, Twitter, mensajes de texto, citas online y demás situaciones virtuales. Brad Pitt does Wired magazine sporting a wireless cell phone headset and gives advice on a variety of subjects: dating online, Twitter, text messaging. The August issue of Wired magazine with Brad Pitt on the cover hits newstands on July 21.
Brad sobre Ashton Tweeting una foto del trasero de su esposa Demi Moore: No tomes fotos del trasero de tu esposa. Es una tonteria. Toma fotos del trasero de las esposas de otros.

Brad On Ashton Kutcher Tweeting A Picture Of Wife Demi Moore's Butt: "Don't take a picture of your wife's butt. That's silly. Take pictures of other people's wives' butts."

Brad sobre mentir diciendo que ganas más dinero para encontrar una cita online: Todo el mundo miente en internet. De hecho, los lectores esperan que tú mientas. Si no lo haces, pensarían que no te esfuerzas tanto. Así que la única manera de decir la verdad es mintiendo.

"Brad Encourages Lying About How Much Money You Make When Trying To Find A Date Online: Everyone lies online. In fact, readers expect you to lie. If you don't, they'll think you make less than you actually do. So the only way to tell the truth is to lie."
A quien le importa si tu esposa en Warcraft es realmente un hombre. Si es bueno, para qué mirar debajo de la capucha.

«Who cares if your Warcraft wife is really a dude,» Pitt is quoted as saying on the cover. «If it's good, don't check under the hood.»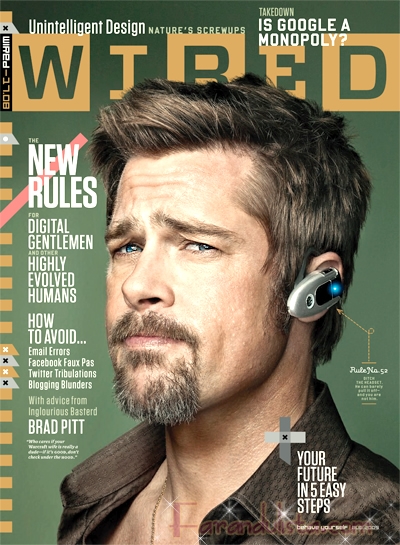 Brad Pitt en la portada de Wired magazine [Agosto 2009]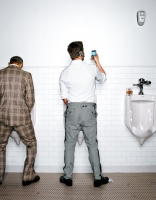 Wired.com/Dan Winters
Fotos de Brad Pitt en Wired magazine
Brad tomando fotos de traseros… Lo de Warcraft LMAO!