Lady Gaga y su traje de la Rana René (En serio)
OMG!! Lady Gaga le encanta llamar la atención, y la chica lo logra. Miren con qué se apareció en una entrevista con una televisora alemana… yeap, está viendo bien, es un vestido hecho con muchos muñecos de La Rana René (Kermit the Frog de Los Muppet)… LMAO!! Sorry, la carcajada que solté fue tal que todos pensaron que había enloquecido. Anyway, el outfit es espantoso, pero Gaga logró lo que buscaba, que todos hablaran de ella. Mmm… soy yo o Gaga y Kermit se parecen?  Lady GaGa (a.k.a Stephanie Germanotta) wore a coat made out of Muppet Show character Kermit the Frog when she was on an interview for a German Tv show. The green furry creation was hung with dozens of the famous frog's head. It's just weird if you ask me. LMAO!! Gaga is unique, a little crazy but unique.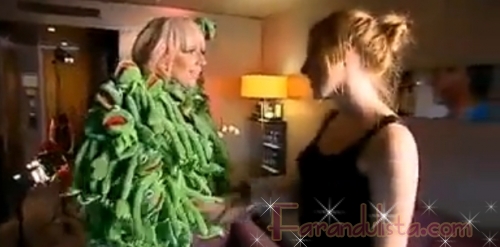 Lady gaga vuelve a hacer de las suyas,
vean su traje de la Rana René (Kermit The Forg).