El mensaje de Lindsay… LOL!
Lindsay Lohan con una camiseta que dice 'Just say No to Drugs' – 'Solo di No a las Drogas'. Es bueno que Lindsay de este tipo de mensajes a sus fans, como lo hace en esta foto donde aparece haciendo la señal de la paz en Beverly Hills este fin de semana. El que lleve la camiseta no significa que ella deba cumplirlo, right?  Ok, ok… just saying. Lindsay Lohan flashed a peace sign, her legs and a sobering anti-drug message to fans in Beverly Hills this weekend.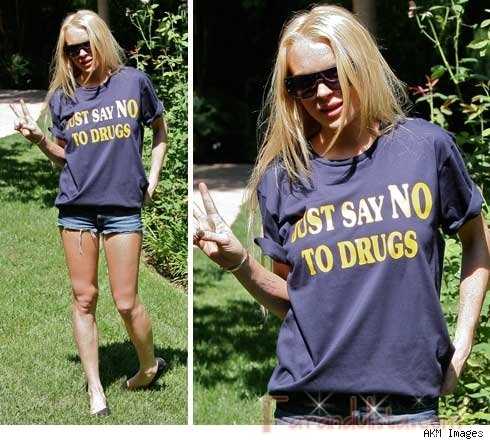 Lindsay Lohan se pase con una camiseta que dice 'Solo di No a las Drogas'
TMZ
Aquí pueden ver a Lindsay Lohan en el aeropuerto de L.A (7/09) con su hermana Ali. Me encanta como se le ve el bronceado, parece un Oompa Loompa con alergia LOL! Pero Lindsay no podía dejar de llevar algún outfit revelador, vean el rumper – overall lo lleva abierto y sin bra… Pero nada como el rostro de la oficial LMAO!  Just say NO! to fake Tan LiLo!  Lindsay Lohan and her sister Ali are spotted departing Los Angeles International Airport (LAX). Lindsay's outfit for the flight is an extremely low cut one piece romper.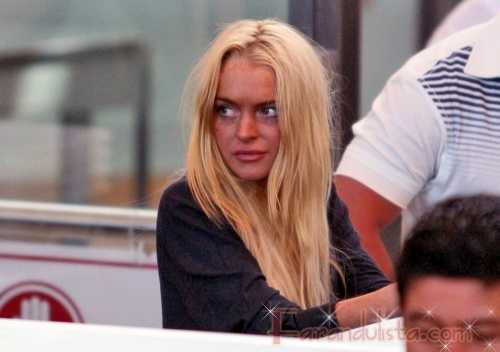 bauergriffin.com