David & Victoria Beckham son almas gemelas – Hello! Magazine
David y Victoria Beckham ofrecieron una entrevista a Hello! magazine y dijeron que ellos son almas gemelas. Soul Mates!! A quien no le guste, pues que se aguante!  La pareja aparece en la portada de Hello! y no solo dicen que son almas gemelas, Victoria lo dijo, también afirman que van a estar felices comiendo perdicez por mucho tiempo pues no se piensan separar, por aquello del escándalo de la prosti-hooker y tal. La portada parece estar inspirada en la Familia Adam's … weird. I love Posh & Becks pero esta portada es como el vestido de Victoria… Booring! David comentó que todos los miércoles tienen una cita… Heyy! Hoy es miércoles!!  So,  qué opinan Farandulistas,  David y Victoria son almas gemelas o todo es puro show? O shó como dice mi amiga Lola (Hi sweety!!) It's funny porque cada vez que una pareja famosa dice esto al mes se divorcian… espero que esto no pase con ellos, of course… Voten en la encuesta!! Go!
David and Victoria Beckham appear on the Hello Magazine cover and tell to the world they are soul mates. Yes, you read right! If you think they are separating because the hooker scandal, you're wrong. They are so in love  and are not separating OK!. Gosh, I love them but this king of comments are absolutely unnecessary, every time a celebrity couple say something like this,  a cute kitty dies… Sad!
"We're soul mates," Victoria said. "Sometimes people throw s*** at us but we get through it. You deal with it, or you don't. You go into a marriage knowing there are going to be ups and downs. We're in the public eye so we have more to deal with than most. We accepted that years ago. It's just about us and the family. "We always make time for each other," David said. "We have a 'date night' every Wednesday."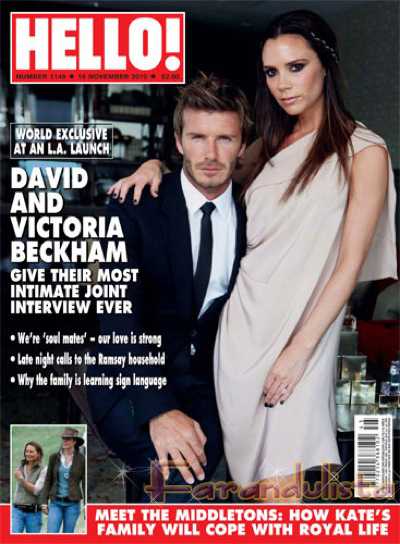 David y Victoria Beckham para Hello! Magazine
[polldaddy poll=4064335]