Kristen Stewart en Vogue magazine
Kristen Stewart posó para Vogue magazine UK – Edición Septiembre 2012… Ok, Este es, digamos, el regreso de Kristen desde todo el escándalo de su affair con el Director casado de Snow White. Kristen aparece con la boca abierta … as usual, en la portada y en otras de las pics en la sesión fotográfica por Mario Testino. En la entrevista ella habla de cuanto le cuesta vivir en el ojo público… (you know, tener affairs con hombres casados y que te pille la humanidad entera… eso sí que debe ser difícil) También revela que puede ser torpe cuando anda con ciertas personas… OK! Kristen comenta cómo es tener que comportarse delante del público...  que no es tan fácil como la gente cree…

Sé que si no has pensado en cómo quieres presentar una idea fabricada de tí mismo, entonces esto puede parecer que no tienes ambiciones.

Pero chico, honestamente? No puedo. La gente espera que sea fácil porque allí estás, allí, haciendo lo que más quieres y haciendo mucho dinero de eso.

Pero sabes, no soy tan tranquila. Puedo ser torpe cuando estoy con ciertas personas. Como si estuviese sentada y pienso: 'OK, soy muy famosa, cómo me comportaré en público? No podría saber quien sería esa persona!

Sería mucho más fácil si pudiera, pero no puedo.
'I know if you haven't thought about how you want to present a very packaged idea of yourself then it can seem like you lack ambition.
'But, dude, honestly? I can't. People expect it to be easy because there you are, out there, doing the thing that you want and making lots of money out of it.


'But, you know, I'm not that smooth. I can get clumsy around certain people. Like if I were to sit down and think, 'OK, I'm really famous, how am I going to conduct myself in public?' I wouldn't know who that person would be!

She added: 'It would be a lot easier if I could, but I can't.'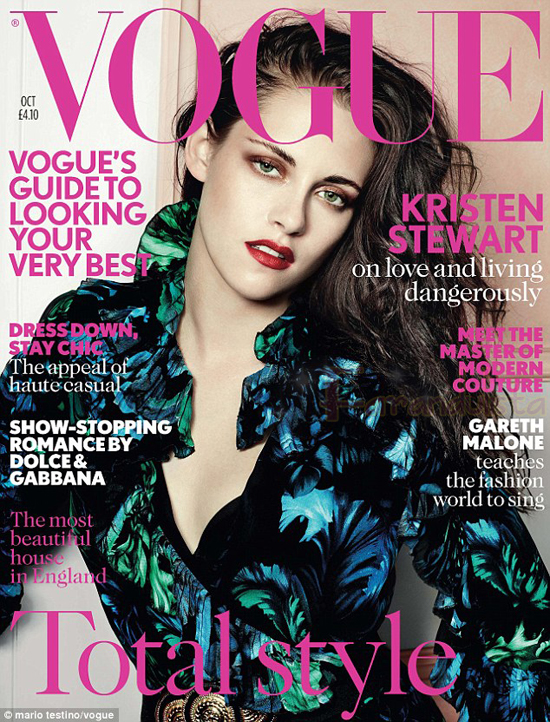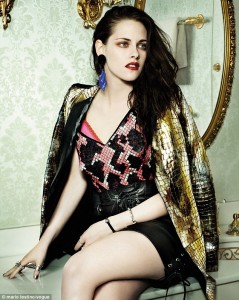 Sobre el cambio de apariencia para su más reciente proyecto cinematográfico On The Road, donde tuvo que teñir su cabello de rubio, Kristen comentó:
Siento que todo mi cuerpo lo rechaza, pero era muy importante para el personaje. Fue como aprender un acento!
'I feel like my whole body rejects it, but it was really important for the character. It was like learning an accent!'
En el film, Kristen hace de Marylou, miembro de la beat generation, y a pesar de que esa época fue mucho antes de la de Kristen, es un período en el cual ella se asocia.
Siempre será la base de la gente que quiere cosas diferentes a lo usual. No es necesariamente algo de rebeldía, es simplemente lo que son.

Ese mundo, en ese entonces, parece ser más libre para mí que nada que haya tocado y estoy muy nostálgica por eso, incluso cuando ni siquiera estaba viva en ese entonces.

Es el aspecto de la lealtad de todo eso. Amo estar en el márgen con un grupo de personas que tienen los mismos valores que yo.

Gente que no se enamora de la fama, solo les gusta el proceso de hacer películas y prosperar.
She said: 'There is always going to be that seam of people who want things differently to the standardized version. It's not necessarily a rebellious thing, it's just who they are.


'That world back then, it just seems freer to me than anything I could ever touch and I'm fully nostalgic for it, even though I wasn't even alive then.

'It's the loyalty aspect of it all. I love being on the periphery with a group of people who have the same values that I do.


Kristen added: 'People who don't get off on fame, who just like the process of making movies and thrive.'
——————————-
Allí tienen las citas originales…