La novela de la vida de Katie Holmes
"Hollywood Car Wash" es una novela, al parecer, basada en la vida de Katie Holmes. Según fuentes cercanas a la actriz, ella está muy preocupada y perturbada por esto, pues los hechos son muy parecidos a su vida. Y ella siente que que su vida privada está en el dominio púlico. Katie obtuvo una copia de la novela y se la está leyendo sin parar. "Hollywood Car Wash" is a new novel, maybe based in Katie Holmes life. According to sources close to the actress, she is very disturbed by the story because all the situations are identical to her life. And she feels like her private life has been exposed.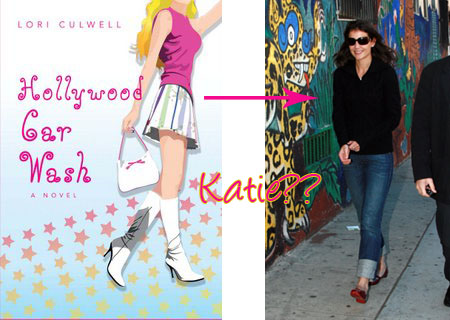 Amy Spencer es una celebridad por accidente. Los Lunes ella es una estudiante normal en Michigan. Pero al finalizar la semana, ella está en Hollywood, protagonizando un piloto para una serie de TV, como una chica normal de Michigan.Todo es diversión y juegos hasta que el show termina y Amy aprende el terrible precio del estrellato, para  mantener lo que no quizo al principio, ella tendrá que entrar en el Túnel de lavado de Hollywood para hacerse más comercial. Primero, deberá perder 20 libras. Tamién necesitará nuevos dientes, hacerse rubia y un novio super estrella con un gran secreto. Cambiando todo desde su peso, su cabello hasta su nombre, Amy lentamente aprende que la única manera de sobrevivir en Hollywood es perdiendose. Inspirada en hechos reales, esta impactante novela sobre lo que está de moda y lo que no en el juego de Hollywood, dejará al lector preguntándose- Quien es la estrella?
Amy Spencer is an accidental celebrity. On Monday, she's a normal college student in Michigan. By the end of the week, she's in Hollywood, starring in a TV pilot – as a regular girl from Michigan. It's all fun and games until the show gets picked up and Amy learns the terrible price of stardom – to keep the part she didn't even want at first, she's going to have to get the Hollywood Car Wash to make her more marketable. First, she'll have to lose twenty pounds. She'll also need new teeth, blonder hair, and a megastar boyfriend with a big secret. By changing everything from her weight to her hair to her name, Amy slowly learns that the only way to survive in Hollywood is to lose herself. Inspired by true events, this shockingly accurate novel about the ins and outs of the Hollywood game will leave the reader wondering – who is Star?
No creo que sea la vida de Katie Holmes, creo que es la vida de cualquier chica común que tiene la suerte de protagonizar un piloto  que de pronto se hace famoso, tiene sus 15 minutos de fama y luego termina. Es la historia de chicas comunes que tratan de sobre vivir en Hollywood, dándose cuenta que todo es vacío y que deben dejar de ser ellas mismas y transformarse en un producto plástico.  Sinceramente no creo esto. Además se supone que la novela está basada en hechos reales, pero no en un actor específico. I don't think It's Katie Holmes Story, It seems like a story of any girl who wants to be famous. The life of any girl next door who is lucky to star a tv pilot and suddenly she is famous but her time ends and she needs to be plastic for Hollywood. The End.