Jennifer Lopez ya dio a luz a sus gemelos!!
Jennifer Lopez ya es madre de gemelos, una niña y un niño!! El manager de la cantante y actriz confirmó la dulce noticia. Los bebitos nacieron temprano este viernes en Long Island, New York. La niña nació a las 12:12 a.m y pesó 2.400 kg y el niño nació a las 12:23 a.m y pesó 2,700 kg. Se comentaba que los gemelos "supuestamente" llevaran por nombres Max y Emme, pero aún no se ha confirmado esto. Jennifer Lopez and Marc Anthony are the proud new parents of twinsThe babies were born early Friday in Long Island, N.Y. The girl was born at 12:12 a.m. and weighed 5 lbs. 7 oz., and the boy followed at 12:23 a.m., weighing 6 lbs.
Jennifer y Marc están encantados y emocionadadísimos. "Jennifer and Marc are delighted, thrilled and over the moon,"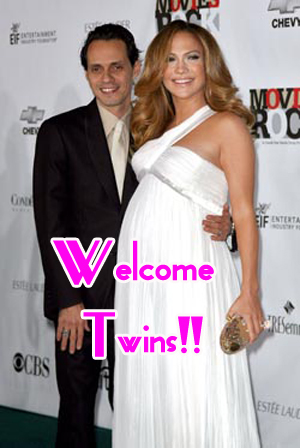 Jennifer lopez y Marc Anthony dieron la bienvenida a sus gemelos!
Awww Felicidades a la pareja!!
[tags]Jennifer+Lopez, Gemelos, Jennifer+lopez+gemelos+nacieron[/tags]
[bgs]Jennifer Lopez[/bgs]