Britney espera un hijo de Adnan? [Star Magazine]
La nueva portada de Star Magazine afirma que Britney Spears espera un hijo de Adnan Ghalib, citando al propio paparazzo. En la portada se puede ver una foto reciente de Brit Brit en el Millenium Dance Complex con barriga, que ellos señalan como una baby bump. Hello! De acuerdo al reporte "exclusivo" de Star, semanas después de que Britney se fugara con Adnan a Rosarito Beach, México para intercambiar votos matrimoniales, el paparazzo le está diciendo a todos que Britney espera un hijo suyo. Star magazine claims that Britney is pregnant with Adnan's baby, quoting the pap. Only weeks after Britney Spears drove to Rosarita Beach, Mexico to exchange marriage vows with Adnan Ghalib, the paparazzo is bragging to friends that she is going to have his baby,Star has learned exclusively.

Britney es el sueño hecho realidad de Adnan. Él sabe que si tiene un hijo con Brit, tendrá la vida hecha. "Britney is Adnan's dream come true. He knows that if he has a child with Brit, he'll be made for life,"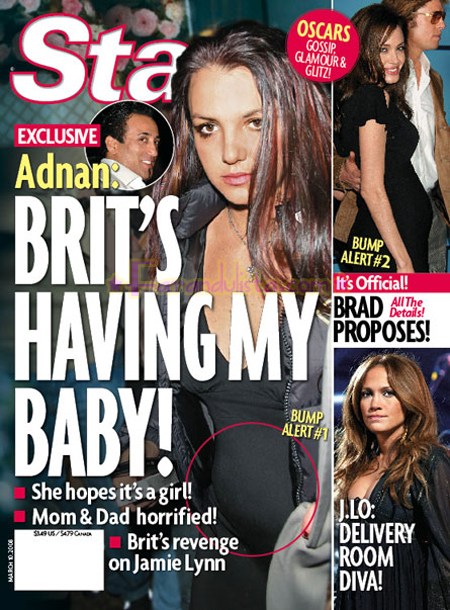 Según Star magazine, Britney espera un hijo de Adnan
Mmm… ahora si vale decir LEAVE BRIT ALONE!!!!
[tags]Britney+Spears, Star+magazine, britney+embarazada+adnan+ghalib[/tags]
[bgs]Britney Spears[/bgs]