Avril Lavigne en la Revista Flare [Nov]
Avril Lavigne posó para la Revista Flare, en su edición de Noviembre. En la entrevista con Flare Avril Lavigne revela un poco más sobre sus gustos y deseos futuros. Avril es muy fotogénica, creo que tiene uno de los rostros más lindos de la industria, lo único que me …ewww son sus dientes, y creo que a ell tampoco le gustan mucho, puesto que sonríe muy poco.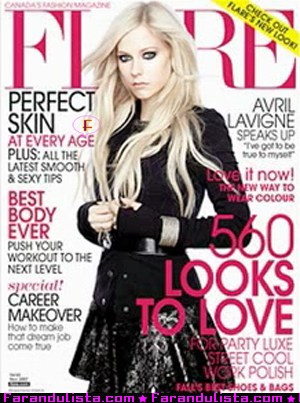 La Revista Flare le preguntó a Avril Lavigne:
Cuál es el objeto con el que no puedes salir de casa? / What's the one item you cannot leave home without?
AL: Mi celular / My cell phone.
Cuál fue el último libro que leíste? / What was the last book you read?
AL: The Poisonwood Bible by Barbara Kingsolver.
Quién es tu diseñador favorito? /Who is your favourite designer?AL: No tengo diseñador favorito. / I don't have a favourite designer.
Si no pudieras tener la carrera que tienes, qué serías? If you could attempt any career other than your own, what would it be?
AL: Sería una policia o una nutricionista / I would be a police woman or a nutritionist.
Qué suena ahora en tu CD player? What is in your CD player right now?
AL: Alanis Morrisette.
What's your biggest fashion pet peeve? / Cual es tu mayor "atrevimiento" de moda?
AL: Mini faldas y tacones – Juntos. / High heels and short skirts- together.
Podrías describirte a ti misma como una persona que requiere mucha atención o poca atención ? / Would you describe yourself as high or low maintenance?
AL: poca atención / Low maintenance.
Cómo te mantienes en forma? / How do you stay in shape?
AL: Me encanta correr. / I like to jog.
Tienes alguna mascota? / Do you have any pets?
AL: Mi madre tiene un perro, pero es mío también! / My mom has a dog, but he's mine too!
Cuando tienes tiempo, cómo te gusta pasarlo? When you have spare time, what's your favourite way to spend it?AL: Disfruto pasar tiempo con mis amigos / I enjoy spending time with my friends.
What is your favourite travel destination?
AL: Italy.
Dónde no has estado que te gustaría ir? Where have you not been that you would love to go?
AL: Egipto/ Egypt.
A quién admiras más? Who do you most admire?
AL: En la industria musical, admiro el tiempo que Madonna se ha mantenido en el tope. In the music industry, I admire how long Madonna has been around for.
Cómo te gustaría ser recordada? How would you like to be remembered?
AL: Como una respetada cantante/compositora que nunca se rinde y con una fuerte personalidad. / As a respected singer/songwriter and someone who is strong-willed and strong-minded.
ontd – Flare.Com
[tags]Avril+Lavigne, Flare+Magazine, Revista+Flare[/tags]
[bgs]Avril Lavigne, revistas, fotos[/bgs]