El temido Señor Blackwell ha hecho pública la lista de Las Peor Vestidas de Hollywood, el Top ten está liderizado por Britney y Paris. Sandra Oh no me parece una mal vestida, y creo que la Britney es la que merece el primer lugar.
LA LISTA Nº 47 DE LAS PEOR VESTIDAS DEL SR. BLACKWELL – MR. BLACKWELL'S 47TH ANNUAL WORST-DRESSED WOMEN LIST
1.) Britney Spears/Paris Hilton: Dos guisantes en una vainita sobreexpuesta! Sin estilo y privadas del sentido de la moda, damas y caballeros  las "SCREAMGIRL" han llegado! Two peas in an over-exposed pod! Style-free and fashion deprived…ladies and gentlemen, the "SCREAMGIRLS" have arrived!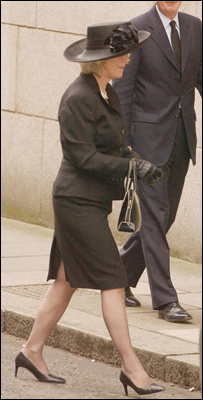 2.) Camilla Parker-Bowles: La Duquesa de las Huelgas Desaliñadas otra vez! En los sombreros de plumas que fueron alguna vez el furor, ella parece un periquito petrificado…de la era jurásica… La ruina Real. The Duchess of Dowdy Strikes Again! In feathered hats that were once the rage…she resembles a petrified parakeet – from the Jurassic Age …A royal wreck!
3.) Lindsay Lohan: Trágicamente atrapada en la linea rápidade la moda… parece que lindsay está lista para filmar un remake de " Baby Jane".  De Adorable a Deplorable. Tragically trapped in fashion's fast lane…looks like Lindsay's ready to remake "Baby Jane." From adorable to deplorable.
4.) Christina Aguilera:La Diva Christina es una cantante deslumbrante… pero coloca su buen gusto en el desague de su closet, toda ordinaria sin ninguna clase! La Diva Christina is a dazzling singer…but she puts good taste through the wardrobe wringer! – all crass, no class!
5.) Mariah Carey:Mariah " La Pariah de La Moda" ha encontrado su lugar estilístico… coronemosla como la Reina del Kitsch Catastrófico!  Mariah "The Fashion Pariah" has finally found her stylistic niche…let's crown her the Queen of Catastrophic Kitsch!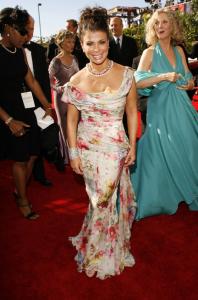 6.) Paula Abdul:Atrapada en los desastres florales que crecen antes de tiempo, ella es un tallo grueso sobre una flor desigual. Un Idolo caído de la Moda. Wrapped in floral fiascos that grow moldier by the hour … she's a lumpy stem…on a bumpy flower. A fallen fashion "Idol"!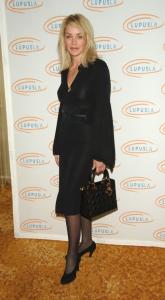 7.) Sharon Stone: Está claro que Sharon ha perdido su sentido de la moda- Ella luce como una Cruella de Vil caida de la cima luego de un terremoto! It's clear Sharon's misplaced her fashion gift – she looks like an over-the-hill Cruella De Ville – after a seismic shift!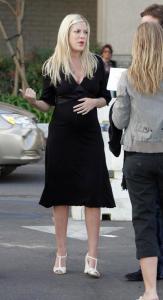 8.) Tori Spelling: Puro frío y nada de temblor, adivinen Tori está en Hollywood. Ella definitivamente está negada a la moda, es la prueba feaciente de que Más es Menos! All chills and no thrills – guess Tori's "Down and Out in Beverly Hills!" She's definitely under fashion duress – positive proof that More is really Less!
9.) Sandra Oh: Oh Sandra, sumergida entre collares, cuentas y arcos prehistóricos. Eres la locura de la  cabeza a los pies. Oh, Sandra! Drowning in beads, bangles and prehistoric bows, she's layered lunacy – from toes to nose!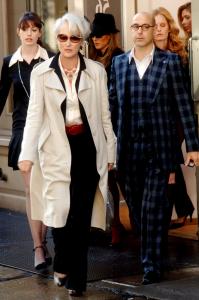 10.) Meryl Streep: Podrías llorar, no se niega la belleza de una carrera, pero esta Bestia del Guardaropa es la Madre de la Novia. From Streep you could weep! Her Beauty-of-a-career cannot be denied – but that Beast-of-a-Wardrobe is pure Mother of the Bride.

También vienen incluídas las Mejor Vestidas, la Lista del Fabulous Fashion Independents for 2006:
Kate Winslet, Angelina Jolie, Helen Mirren, Barbra Streisand, Beyonce, Nancy Pelosi, Princess Charlotte of Monaco, Heidi Klum, Katie Holmes and Marcia Cross.