Muñeca de Britney Spears calva en Ebay
Una muñeca parecida a Britney, con la cabeza rapada y una camisa de fuerza, está siendo subastada en Ebay. Esta muñeca Calva llamada Britney Shears, modelo único de arcilla, obtuvo 11 ofertas siendo la más alta, hasta ahora, la de 82 dólares. La subasta de esta figura de plástico y arcilla termina mañana, 28 de febrero del 2007. A bald Britney doll in a straight jacket is up for sale on eBay. This Bald doll called Britney Shears, the only model of clay obtained 11 offers being the highest, till now,  82 dollars. Bidding for the six inch polymer clay figure ends tomorrow (28.02.07).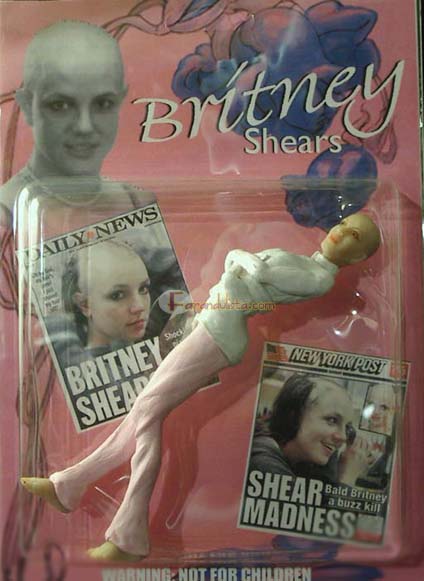 Sinceramente me parece cruel, pero me da risa ( lo siento) es que Britney ha hecho tantas locuras, y tantas estúpideces que merece que se burlen de ella. No entiendo como una madre de dos niños, con una carrera tan prometedora, cae tan bajo. Es inconcebible, así como se rapó la cabeza en un momento de locura (porque no se puede negar que lo fue) puede hacer algo peor. Para luego andar arrepentida, porque la prueba máxima de que se arrepintió de su rapada es que andaba con una peluca de 1 dólar después… eso es de locos con camisa de fuerza! Sincerely I think this is cruel, but it makes me laugh (Sorry!)  Britney has done so much madnesses, she deserves that they make fun of her. I don't deal as a mother of two children, with such a promising career, she falls down so down. It's inconceivable, She shaved her head in a moment of madness, because it was a moment of madness(it is not possible to deny that  it was) she can make something worse. Then She regrets about that because she is with a wig of 1 dollar … She needs help and  strait jacket!
Actualmente Britney está en Rehabilitación en el Malibú Promise, es la tercera vez que se registra en seis dias. Al parecer todo va bien, Britney aún no huye de allí. Espero se recupere, por ella y por sus hijos. Britney is currently staying at Malibu's Promises rehab centre. She checked into rehab for the third time in six days last week. Everything is ok, Brit is on rehab right now, I hope she goes well, for her and  her childs