A la Posh le piden que use sostén
El editor de la revista Us Weekly le ha rogado a la Posh Victoria Beckham que por favor se cubra cuando va a Los Angeles en Verano porque están hartos de verle los pezones. El jefe de la revista ha escrito una carta a la Beckham, mejor conocida como Posh Spice, pidiéndole que use Brassier (sostén), y lo ha publicado en su página web. The editors of Us Weekly have pleaded with ex-Spice Girl Victoria Beckham to cover up when she becomes a Los Angeles resident this summer because they're sick of seeing her nipples. The magazine chiefs have penned a letter to Beckham, formerly known as Posh Spice, asking her to wear bras – and posted it on their website.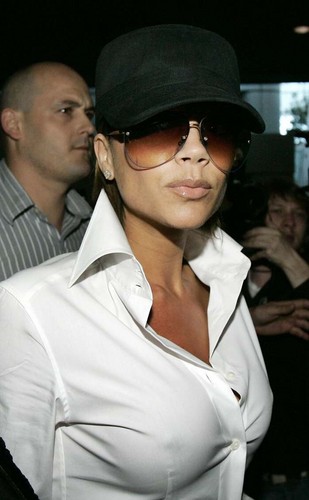 No hay nada elegante Posh en olvidar usar sostén cuando se viste franelas ajustadas, como desafortunadamente se sabe que haces. Es obvio para nosotros que el sostén debe ser un concepto extraño ajeno para ti -como el fútbol americano, o el buen gusto de evitar a Tom Cruise- permítenos explicarte: Eres una mujer de 32 años con un animado busto que aparentemente le gusta respirar. There is nothing Posh about forgetting to wear a bra when gallivanting about in thin T-shirts, as you've unfortunately been known to do. It is obvious to us that the bra may be a foreign concept to you – much like American football, or the good sense to avoid Tom Cruise – so allow us to explain: You're a 32-year-old woman with perky breasts that apparently like to breathe.
Continúa evitando el sostén y en cinco años terminarás con péndulos colgando de tu clavícula que tu esposo David Beckham podrá confundir con bolsas de balones de fútbol. Keep shunning that bra and in five years you'll end up with pendulums hanging off your clavicle that hubby David Beckham might mistake for soccer ball bags.