Rodriguez niega romance con Rose McGowan
El Director de Grindhouse, Robert Rodriguez ha negado tener un romance con  Rose McGowan, y hace unos dias se anunció que  justamente (Rodriguez) terminaba su matrimonio de 16 años con su esposa Elizabeth Avellan. Irónicamente Robert y Rose han sido vistos juntos muchas veces y por este motivo comenzaron los rumores de que Rose era la culpable del divorcio. Ambos trabajaron juntos en Grindhouse donde Rodriguez es Director y Rose es la protagonista. Director of Grindhouse, Robert Rodriguez has denied suggestions he is dating Rose McGowan, days after announcing his split from his wife of 16 years Elizabeth Avellan. Ironically, they have been seen together many times. And for this reason all rumors about relationship with Rose began, and they say Rose has ended with Rodriguez's marriage.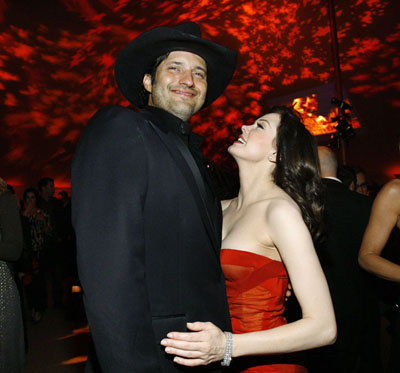 Rose tiene fama de loca, ella fue novia del Marilyn Manson y se apareció en la alfombra roja con un vestido que le dejaba ver todo. Según Rodriguez, la relación entre él y Rose McGowan es puramente profesional… Sure! Profesionalmente sexual. No puedo creer que Robert haya dejado a su esposa, la madre de sus cinco hijos, por esta chica que lo botará la semana que viene. Rose is a bitch, everybody knows her background, she was Marilyn Manson' girlfriend and appears in red carpet wearing  a disgusting dress… (well, maybe guys think the dress was gorgeous. Everybory can see her ass and boobs) Anyway, I can't believe Rodriguez broke up his marriage for a relationship that won't last! Rose is a "one nigth girl"… or maybe a "one week girl." He said that their relashionship is only professional… sure!!