El fotógrafo Larry Birkhead es el Padre de la hija de Anna Nicole Smith, Dannielynn. Una corte de las Bahamas dio el veredicto luego de revisar las pruebas de ADN. Photographer Larry Birkhead is the father of Anna Nicole Smith's baby, a Bahamas court ruled today after seeing DNA evidence.
Una prueba de ADN confirmó que él es el padre con una certeza del 99 porciento , dijo el Dr. Michael Baird, quien llevó a cabo la prueba y reveló los resultados en una sesión cerrada en una corte de las Bahamas este Martes. A DNA test confirmed him as the father with 99.99 percent certainty, said Dr. Michael Baird, who performed the test and revealed the results to a closed session of a Bahamian court Tuesday.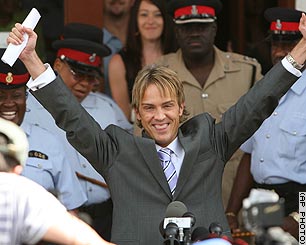 Mi bebé irá a casa muy pronto. My baby's gonna be coming home pretty soon.
Howard K. Stern quien es el padre de Dannielynn en el certificado de nacimiento, dijo que no apelará la decisión. Howard K. Stern, who is named as the father on Dannielynn's birth certificate, said he would not fight the ruling.
Oooh me siento feliz por este final, que se puede decir que es Feliz, pese a todo. Larry siempre dijo ser el padre de la pequeña y desde antes que pasara toda esta tragedia de la muerte de Anna. Felicidades a Larry!! TEAM LARRY!! Wooo HOO!! I'm feel so happy for this… TEAM LARRY!! I always believed that Larry was the father of Dannielynn. I'm so happy.
Artículo completo en CNN