Britney en topless…. She's BACK!
Britney parece estar de nuevo feliz y ha posado topless en el jardín de la casa de unos amigos, (qué amigos que venden sus fotos!!) con nada más y nada menos que florecitas rojas tapando su  pecho. No tengo idea qué pasa en la cabeza de Brit al hacer esto, pudiendo posar para cualquier revista va y hace esto de gratis.  ( Bueno si ya mostró la cesárea, anyway…) Como siempre con esas botas que parece tener pegadas a los pies, su acostumbrado sombrero y la peluca de 1 dólar. Tal vez está preparandose y practica para posar en playboy. Britney looks happy again and she posed for the cameras in topless. Yeaah, Britney wearing a horrible hat, her fug boots (maybe she have accidentally glued those boots to her feet) and super sized glasses, she posed for the photos in the garden of her friends house using only red flowers to cover her chest. I don't get it she can pose in a great magazine and she does for free… well, she shows her C …Maybe she's practicing for Playboy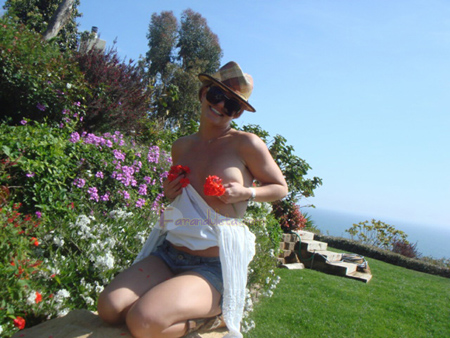 ontd [via]
Britney se ha presentado en la House of blues, cantó 4 canciones (y no las cantó realmente… solo movía los labios…) estuvo 20 minutos y luego se fue, luego que todo el mundo esperó 3 horas para verla. Se puede decir que BRITNEY IS BACK! She performed at the House of blues… yeahh BRIT IS BACK! Brit danced and sang (lip-synced! only 4 songs!) for about 20 minutes after keeping everyone waiting for over 3 hours.