Girls Next Door: Festival de TV de Montecarlo
Las Chicas de La Mansión Playboy (a.k.a Girls Next Door, Girls of the Playboy Mansion) Holly, Kendra y Bridget estuvieron junto a Heff en el Festival de Televisión de Montecarlo. Hugh Hefner's girls, Holly Madison, Bridget Marquardt, and Kendra Wilkinson at the Monte Carlo Television Festival.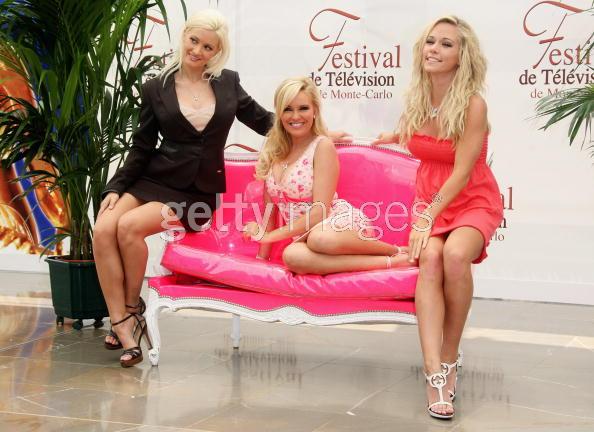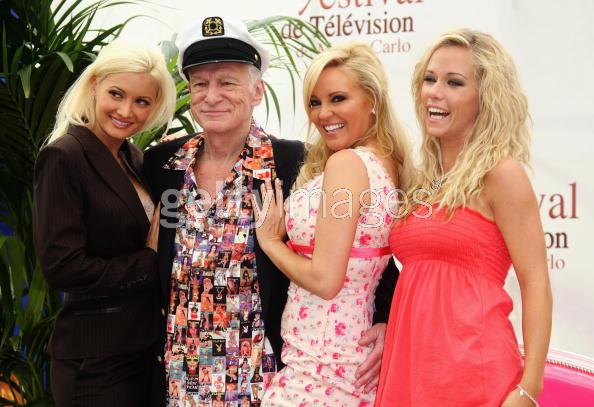 Por cierto, Kendra Wilkinson está furiosa porque la Revista Elle insinúo que ella era menos inteligente que las otras novias de Heff, Bridget Marquardt y Holly Madison. Según el reportaje de la Revista, Kendra era "de personalidad perturbada, vocabulario limitado, y según, Heff habría dicho: que su encanto era claramente por ser poco intelectual… o sea, una bruta. Así que Heff está tratando de contentarla, pero Kendra está muy dolida por eso… dudo que le perdone. Bueno, Kendra claramente es medio brutaza, pero es encantadora, es la más linda de las tres y la más divertida. Kendra Wilkinson was reportedly furious when Elle magazine insinuated she was less intelligent than Hefner's other girlfriends, Bridget Marquardt and Holly Madison, on the E! show "The Girls Next Door." The story also quoted Hefner remarking on her "distinctly unintellectual charm." And the magazine says she possess only a "dazed personality and limited vocabulary". Hugh Hefner is trying to make it up to one of his girlfriends Kendra Wilkensen after not sticking up for her in the first place.
photos: gettyimages [news]
[bgs]Girls of the playboy mansion, Holly, Kendra, Bridget, Playboy, sexy, kendra Wilkinson, fotos, conejitas, hefner, girls next door[/bgs]