Katharine McPhee : La Sexy American Idol
Katharine McPhee la chica que quedó de primera finalista en el American Idol, cuando ganó el chico canoso ese, que bailaba horrible… cuál era su nombre? Anyway, ella posó para la revista "Stuff" en una sesión de fotos muy sexy donde lo único que muestra son sus piernas. Ok, admito que las tiene lindas pero por lo menos debieron variar, no? Ok, ok son los chicos los que apreciaran mucho estas fotos. La entrevista es bastante entretenida y divertida, ella se ve muy simpática. Habla sobre la portada de su nuevo disco, sus amores mayores, y una monja embarazada. Katharine McPhee appears in Stuff magazine and did a really sexy photoshoot. In all pics Kat shows her legs. She has great legs but in my opinion, It's boring. In other hand the interview is fun, she looks very cool. She talks about the cover of her new album, old guys and a pregnant nun.
People made a big deal out of that. They said: She's a slut, blah, blah, blah. But I'm really not showing that much skin. It's all suggested. La gente hizo un gran lio por eso. Ellos me llamaron indecente, blah, blah, blah. Pero en realidad no estoy mostrando tanta piel. Es todo sugestivo.
I was prematurely developed. As a freshman , I looked like a junior: I had boobs. Some of the older kids saw me in the year book and said I was cute. Yo me desarrollé muy temprano. Y como estudiante del primer año (secundaria) yo lucía como universitaria (del primer ciclo): Yo tenías senos. Algunos de los chicos mayores me vieron en mi "Year book" y decían que yo era linda.
When I turned 21, I thought it was a good age to explore. You're no longer a teenager, so it's OK [to date older guys]. Cuando cumplí los 21 pensé que era una buena edad para explorar. Ya no eres más una adolescente, así que está bien (salir con hombres mayores)
Oh yeah, I want to have, like 15 babies. I've always wanted to be pregnant. One year for Halloween, I decided to be pregnant, so I got this nun costume, and I put a big belly under it. I showed my parents and said I want to go to school as a pregnant nun. My dad sat me down and said: "Katharine you can't" Oh si, Quiero tener como 15 bebés. Siempre quise estar embarazada. Una año en Halloween decidí estar embarazada, así que tomé este disfraz de monja y le puse una gran barriga. Se lo mostré a mis padres y dije que quería ir al colegio como monja embarazada. Mi padre me sentó y dijo: No Katharine, no puedes!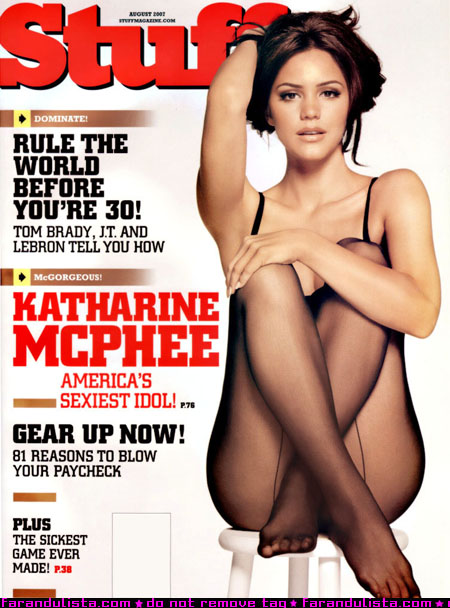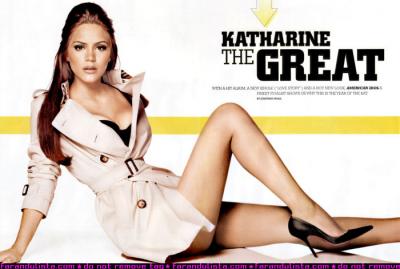 Click to enlarge / Click para agrandar (you can read the interview)
[bgs]Katherine McPhee, American Idol, fotos, sexy[/bgs]