Britney Spears fuera de control en sesion de fotos Ok! Magazine
Britney Spears actúo totalmente "fuera de control" durante una sesión de fotos para Ok! Magazine. La revista ha reportado que todas las fotos son un desastre. Britney no dejó que los estilistas contratados le peinaran, ni le tocaran. Según reportes de múltiples fuentes, el comportamiento de Britney fue muy errático, ella estaba totalmente desconcentrada, las fotos quedaron tan mal que pudieran terminar con su carrera. Britney Spears behavior during the interview and photoshoot with OK! Magazine was a complete disaster. She was completely out of it. The photos are so bad that to publish them could "kill her career."
En una declaración exclusiva para TMZ. La Editora de OK! Sarah Ivens dijo, In an exclusive statement to TMZ, OK! Editor-in-Chief Sarah Ivens said,
"OK! Magazine spent a heartbreaking day with Britney Spears and witnessed first-hand an emotional cry for help that will leave you shocked and sad. This week, on newsstands Friday, the truth will be told." OK! Magazine pasó un dia desgarrador con Britney Spears y fue testigo directo de un grito doloroso de ayuda que lo dejaría sorprendido y triste. Esta semana, el viernes en los kioskos de revistas, toda la verdad será contada.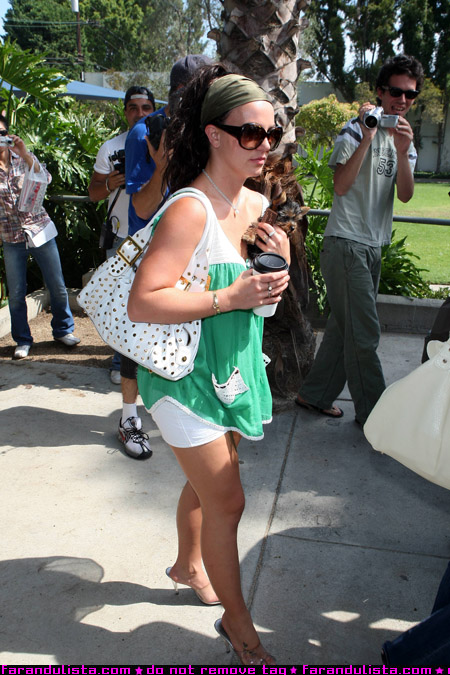 Los comportamientos erráticos de Britney durante la sesión: Britney's behavior during photoshoot. Out of control y'all!
En un momento los ojos de Britney se le volteaban hacia atrás, que parecía medio muerta. Brit's eyes rolled back in her head at one point, causing her to look half dead.
Su humor era extremadamente errático. Her mood was extremely erratic.
Ella tomó frecuentemente varios recesos para ir al baño y cada vez que regresaba su humor variaba. She took frequent bathroom breaks and each time she returned her mood would change.
Estaba completamente paranoíca durante toda la entrevista, temiendo en un momento que el techo fuera a caerle encima. She was completely paranoid during the entire interview, fearing at one point the ceiling was about to cave in on her.
Britney ordenó pollo frito, se ensució con comida y se limpió las manos en un vestido de Gucci que usababa para la sesión de fotos, manchándolo de grasa. Britney ordered up some fried chicken, she chowed down and wiped her hands on a Gucci dress that she was wearing for the shoot, staining it with grease.
Su perrito se hizo popó por todo el piso y Brit usó un vestido de Chanel para limpiarlo. Her dog pooped all over the floor, and Brit used a Chanel dress to clean it up.
Ella se rehusó a ser atendida por los estilistas, no quería que la tocaran, optando porque sus amigos le peinaran y maquillaran. She refused to let the hired stylists touch her, opting instead for her friends to do her hair and makeup.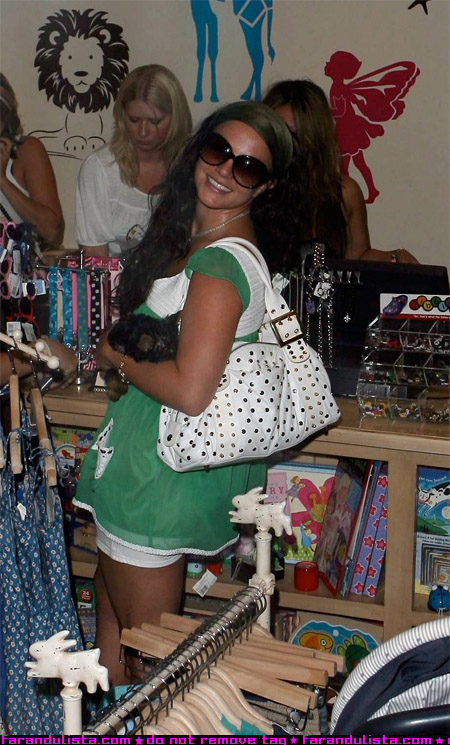 Britney haciendo compras para sus hijos.
Britney está más sola que nadie, y lo peor es que de verdad necesita ayuda, si se preguntan donde estaban su mamá, prima, asistente, abogado alguien que la ayudara, pues ya se sabe que ni su prima Alli quiere saber de ella. Britney is so lonely, she needs HELP! and she doesn't want it. If you're wondering where her mom, cousin, lawyer, asistant, anyone was to help her out. Even her cousin Alli is done with Britney. I feel sorry for her kids.
photos:CU
[fuente]
[bgs]Britney Spears, fotos, descuidos de famosas[/bgs]