Gwen Stefani en InStyle Magazine
Gwen Stefani posó para la revista InStyle. Y se ve espectacular, adoro su estilo, creo que ella es la única mujer que puede vestir rayas horizontales y verse hot. Gwen habla de su dulce vida, con un esposo guapo y rockero que cocina para ella, éxitos en la radio, su linea de ropa y su hermoso hijo Kingston. El cual lleva a todas partes! La vocalista de No Doubt dice que es una mezcla de estilos, rasta, estilo inglesa, chica chola y Orange County. También comenta que para mantenerse en forma, entrena cinco veces a la semana con su entrenador personal desde hace 12 años, ha probado el yoga y el pilates, pero dice que lo mejor para ella es el entrenamiento clásico. Gwen Stefani does InStyle Magazine and she looks gorgeous. I love her, she has a unique fashion style. She has a Sweet Life – hit records, a cool great clothing line, a handsome rocker husband, who cooks for her and a beautiful kid, Kingston. She says she's a mixed styles, a geeky Orange County girl, a chola girl, a rasta girl and a English girl. The singer also talks about her fitness workout, she have tried the yoga and pilates but she prefers the old school fitness workout. Gwen and her personal trainer work out five time a week at least.
I could never get a tattoo. I don't want to commit to anything If I don't know how It's going to look in 10 years. No podría nunca hacerme un tatuaje, no quiero comprometerme con nada si no sé cómo lucirá en 10 años.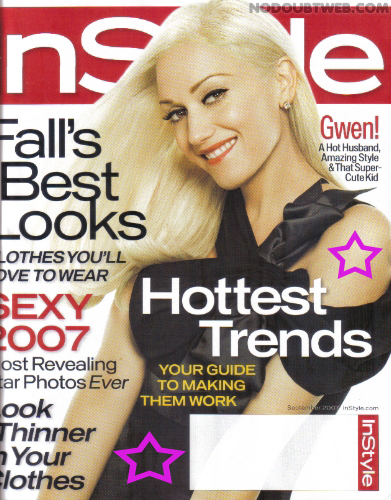 images:nodoubtweb.com
[bgs]Gwen Stefani, fotos, revistas, No Doubt[/bgs]