82 minutos paso Nicole Richie en Prision
Nicole Richie entró y salió de la cárcel en la madrugada. Nicole Richie fue a presentarse para cumplir su sentencia por conducir bajo influencia DUI a las 3:15 PM en Lynwood Jail, donde Paris Hilton cumplió su sentencia. Justo 82 minutos luego de presentarse para cumplir su sentencia, Nicole Richie sale libre. De acuerdo a la web oficial del Departamento de Policia de Los Angeles, Richie se presentó a las 3:15 p.m y fue soltada a las 4:37p.m. Woow eso si es tiempo record! Nicole Richie was in and out of jail in the same day! Nicole Richie went into jail today to serve her sentence for DUI. She was booked at the Lynwood Jail, where Paris did her time, at 3:15 this this afternoon. Just 82 minutes after Nicole Richie checked herself into Lynwood jail, she left a free woman. According to the official website of the L.A. Sheriff's Dept., Richie checked in at 3:15 PM and was released at 4:37 PM.
On August 23 2007, at 3:15 PM Miss Nicole Camille Richie reported to CRDF and surrendered herself following a July 27 arrest, she was sentenced to serve 96 hours in County Jail. Miss Richie was accompanied by her attorney, Shawn Chapman Holley and her boyfriend Joel Madden. Miss Richie was booked and processed into the jail system. Miss Richie was cooperative during the process. Based on her sentence and federal court guidelines, Miss Richie was released at 4:37 PM today.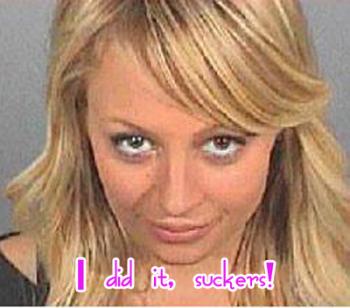 Así que Nicole Richie es una mujer libre ahora, tanto que en la mañana llevó a su perrito al veterinario junto a su prometido y padre del hijo que espera, Joel Madden. Life is Good! Well, Nicole Richie is a free woman now! This morning she and her fiancee Joel Madden went to the Vet office with Nicole's puppy.
[bgs]Nicole Richie, Joel Madden, fotos[/bgs]