Las 10 Celebridades Mejor Vestidas del 2007 (People)
La Revista People ha revelado la lista de las Celebridades Mejor y Peor Vestidas del 2007, estilos desde lo más clásico a lo más glamoroso. La lista de las Mejor Vestidas muestra una variedad de gustos de los cuales puedes escoger. El Top Cinco está encabezado por Beyonce como la Mejor Vestida por su notable atractivo y muy popular estilo. Le sigue Cameron Diaz como las Mejores Piernas. Katie Holmes es la Clásica. Penélope Cruz la Continental (What?) y Jessica Biel es la típica americana. People Magazine reveales Best Worsts Dressed of 2007. From classic chic, to girl next door glam, People's top 10 list covers a wide array of Hollywood style. Beyonce is the Best Dressed of 2007, Cameron Diaz "The Legs" is in second places, Third Place is for The Classic Katie Holmes, The Continental Penélope Cruz is fourth and Jessica Biel is the All -American.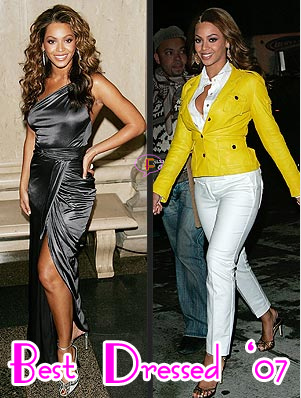 Beyonce es la Mejor Vestida del 2007
Las 10 Celebridades Mejor Vestidas 2007, según People (People's list of The 10 Best Dressed Stars of 2007):
Beyoncé Knowles – The Showstopper
Cameron Diaz – The Legs
Katie Holmes – The Classic
Penélope Cruz – The Continental
Jessica Biel – The All-American
Drew Barrymore – The Chameleon
Jennifer Lopez – The Glamour Girl
Reese Witherspoon – The Celeb Next Door
Gwen Stefani – The Trendsetter
LOS CHICOS- THE GUYS: David Beckham, Johnny Depp, Terrence Howard, Brad Pitt and George Clooney componen el grupo, según People. David Beckham, Johnny Depp, Terrence Howard, Brad Pitt and George Clooney set the male style standard, according to People.
LAS PAREJAS -THE COUPLES: Las Parejas Mejor Vestidas incluyen a Brad y Angelina (Of course!) Gwen Stefani y Gavin Rossdale (Hello!) Halle Berry y Gabriel Aubry y Eva Longoria y Tony Parker (ya saben, relleno) Entre otros. People's Best Dressed Couples include Brad & Angelina, Gwen Stefani & Gavin Rossdale, Halle Berry & Gabriel Aubry and Tony Parker & Eva Longoria.
MISSED THE MARK: Lo opuesto es la estrella Eva Green quien se lleva el título como la Celebridad Peor Vestida del 2007. Eva Green i the world's worst dressed star of 2007.
STLLOS MAS VERGONZOSOS – STYLE SHOCKERS: La cabeza rapada de Britney Spears. El peinado tipo mohicano de Sankaya Malakar (alguien se acuerda de él?) y el Bolso de Cameron Diaz que causó controversia en Peú, son algunos de los que están en esta lista. Britney's shaved head, Sanjaya's infamous po-hawk and Cameron Diaz's handbag that caused a controversy in Peru are just a few of the low lights from People's Most Shocking Style Moments of the Year.
[bgs]Beyonce, Cameron Diaz, Penélope Cruz, Jessica Biel, Drew Barrymore, Jennifer Lopez, Reese Witherspoon, Gwen Stefani, fotos [/bgs]