Mary Kate Olsen en Hapers Bazaar
Mary Kate Olsen está en la Portada de Harper's Bazaar, Mary Kate hace algunos comentarios bastante interesantes, de cómo la prensa manipula las fotos a su manera. Las locuras que le gusta hacer cuando está en casa, cómo se viste, su gusto por el café (de Starbucks, of course!). Mary Kate Olsen does Harper's Bazaar Magazine, she talks on how the paps change the meaning of the photos, her fashion style, her hair, her love for coffe. Mary Kate looks lovely.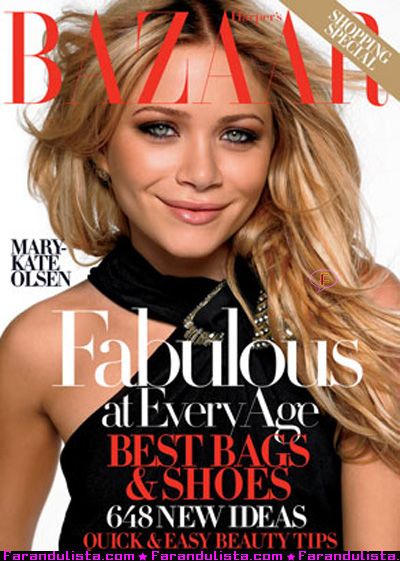 Mary Kate Olsen en la Portada de Harper's Bazaar
"I woke up one morning and was like, I want white-trash hair today." Desperté una mañana y fue como, quiero un cabello blanco asqueroso hoy.
"I always get creamed for having my Starbucks cup. But the only time people get photos of me is when I'm getting coffee, when I can't sneak away from the camera." Siempre compro batidos en Starbucks. Pero la gente siempre me toma fotos cuando voy por café, cuando no puedo escapar de las cámaras.
"They take photos of us going into our offices, and it's 'Mary-Kate and Ashley shopping again.' But I'm going to work for eight hours, and we're working so hard…It just shows how people want to think of you." Ellos toman fotos de nosotras rumbo a nuestras oficinas, y es "Mary Kate and Ashley de compras otra vez!

"I run around my house naked with heels all the time. It's so funny. All of my friends will tell you I love running around in kimonos and jewelry or naked with jewelry." Yo corro en tacones y desnuda en mi casa siempre. Es divertidísimo. Todos mis amigos te diran que amo correr por allí en kimonos y con joyas o desnuda con joyas.

thanks kimair@thefashionspot
[bgs]Mary Kate Olsen, fotos, revistas[/bgs]