Johnny Depp en Esquire Magazine
Johnny Depp aparece en la edición de Enero 2008 de la revista Esquire. La entrevista y la sesión de fotos de Esquire es junto al Director Tim Burtom. Durante la entrevista Johnny Depp habla de varios puntos, su familia, su vida, sus papeles, y trabajar con Tim Burton. Johnny Depp does Esquire magazine (January 2008 issue). It's a special report with Director Tim Burton. During a really entertainment interview Johnny talks on her family, her movie roles and Tim Burton.
Mi vida es mi vida gracias a Tim (Burton). Definitivamente. My life is my life because of Tim. Defintely.
Estoy en una posición muy privilegiada. Y ciertamente no voy a morder la mano de quien me alimenta. Me encanta hacer el trabajo. Pero no me agradan las cosas que vienen con el. No quiero ser un producto. I'm in a very privileged position. And I'm centainly not going to bite the hand that feeds me. I like doing the work. But I'm not a great fan of all the stuff that goes along with it. I don't want to be a producto.
La gente es muy agradable en la calle. Si ellos quieren que yo firme algo, está bien. No me molesta en lo absoluto. People are supernice in the street. If they want me to sign something, that's great, I don't mind that at all.
No hay límite en las posibilidadades de lo que podría hacerle a los paparazzi si los descubro tratando de fotografiar a mis hijos. There're no limit to the possibilities of what I could do to the paparazzi if I catch them photographing my children.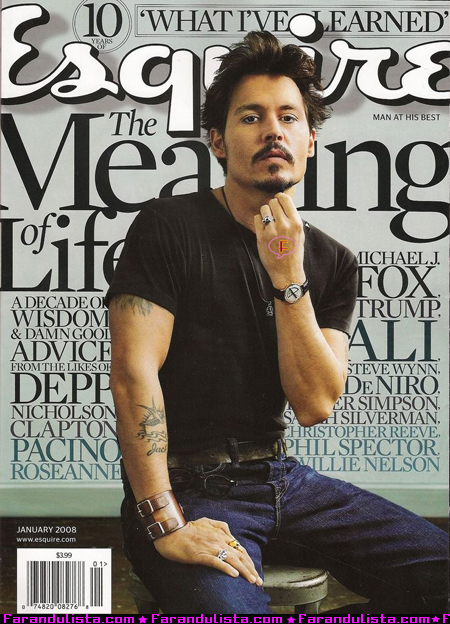 [tags]Johnny+Depp, Esquire+Magazine+Enero+2008, revista+Esquire[/tags]
[bgs]Johnny Depp[/bgs]